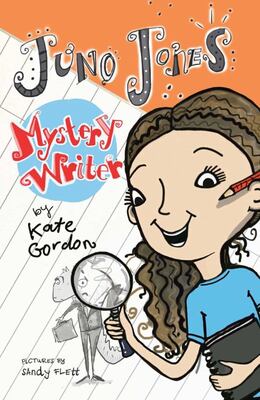 $12.99
AUD
Category: early reader
A disaster has happened! Again. Muttonbird Bay Primary is once again under threat of closure, and Juno Jones is pretty sure the Alien Lizard Men are involved. But that's not all: Shy Vi is missing, Miss Tippett is acting VERY strangely, and everyone keeps turning to Juno Jones to solve the mysteries. ...Show more
$12.99
AUD
Category: early reader
A disaster has happened! Muttonbird Bay School might be closing. I mean forever! Juno Jones loves her school but the Men in Suits want to close it down! And there's only one thing Juno and her classmates can do to stop it... Read! Which is perfectly fine but Juno Jones is A KID WHO DOESN'T LIKE READING. To save her school Juno Jones will become a WORD NINJA! ...Show more
Four on the Run
by Sophie Masson; Cheryl Orsini (Illustrator); Authors' Elves (Designed by)
$13.99
AUD
Category: early reader
Maxie, Fergie, Flash and Lady are good friends who live in Mrs Brown's farm shed. Life isn't exciting, but they're happy. Until the day they learn that Mrs Brown wants to sell them--to the scrap yard! So they decide to run away: and suddenly life becomes very exciting for the four lovable machines in a series of madcap adventures that will change everything.This is an exciting, funny chapter book, with warm and interesting characters who just happen to be machines! With lively, appealing illustrations by Cheryl Orsini, Four On the Run is a fresh and original adventure which is great both for reading aloud to pre-literate children and for young readers to read for themselves. ...Show more
$14.99
AUD
Category: early reader
Cam and Sophie feel like they've been travelling forever to get to the rainforest and the river and their cousins. They just want to see a platypus in the wild, but with the rain tipping down and the river turning wild they can't see a thing. Until suddenly, they can. A platypus is just below them, an d it needs help! But when their rescue attempt goes horribly wrong, it's not just the platypus that needs saving... ...Show more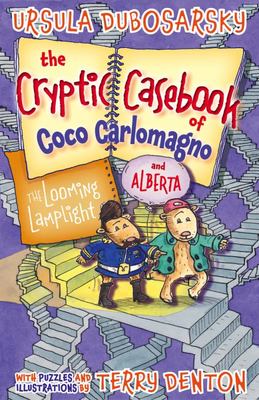 $9.99
AUD
Category: early reader | Series: The Cryptic Casebook of Coco Carlomagno & Alberta
The second in the series featuring the guinea pig detective and his sleuthing cousin   Coco Carlomagno, the well-respected (if somewhat easily startled) Chief of Police, has run into an unusually difficult problem. From his office high in the Obelisco, Buenos Aires' tallest building, he can see a light turn on and off. Could it be a message? How can he possibly decode it? In desperation he once again calls on his clever cousin Alberta to help him solve the puzzle of the looming lamplight. ...Show more
$12.99
AUD
Category: early reader
Zola loves living on Boomerang Street with her mum and her nonna. Every day of the week is an adventure. But Zola has a problem. No matter how much she tries, she can't keep out of trouble! Collect all seven stories in the series - one for every day of the week. From the bestselling author of Looking fo r Alibrandi. ...Show more
$15.99
AUD
Category: early reader | Series: Ninja Kid
Grandma has invented the COOLEST thing evera GLOVE that can bring toys to life! But when the glove is stolen, Nelson and Kenny have to find a way to get it back... before a CRAZY TOY ARMY takes over the WHOLE TOWN!  
$15.99
AUD
Category: early reader | Series: Rise of the Mythix
Enter the Griffin!The Unicorn, Minotaur and Griffin are united at last. Surely together they will be unstoppable! But the evil Collector is not going to give up without an epic fight, and not all the beasts of legend are on the side of good...Will our heroes finally fulfill their destiny? 
$14.99
AUD
Category: early reader | Series: Fartboy
Martin is hot on the trail of his missing parents when he's called on to become Fartboy, the world's SMELLIEST super hero. A new doctor is in Sparkletown, and he is DISGUSTING. His cures are made from vacuum cleaner dust, mouldy cornflakes, crusty crumbs and filthy fur. Martin's search for Mum and Dad i s put on hold-only a fart a day keeps THIS doctor away! ...Show more
$14.99
AUD
Category: early reader | Series: Monty's Island
Monty lives on a perfect island in the middle of a magical sea. Sometimes the sea throws up something interesting ... and Monty goes on an amazing adventure!On a tiny island far away, in a sea that ripples with magic, Monty never knows what he might find…   The most unexpected things wash up on Monty' s Island. And a golden egg might be his most amazing find yet! But when a pair of flying monsters and a mysterious explorer arrive, it seems the egg is about to hatch into a very big problem. Can Monty find a way to solve it? Surely he can! All he needs is a little help from his friends. And the Hairy Horrible. An adventurous and entertaining new series from beloved author Emily Rodda. ...Show more
$15.99
AUD
Category: early reader | Series: E-Boy
Part human. Part robot. All hero!   Last week Ethan was just a teenage kid who was lying in hospital with a brain tumour. That was last week.Now, Ethan has the superhuman power to hack any computer system with his mind, and he and Doctor Penny are in a battle with Gemini, the android healer-turned-deadl y assassin.The Robofight Games might be the perfect cover for their mission. Or they might find themselves in even more trouble...Robot vs human. Country vs country.Who will cheat? And who will win? ...Show more
$12.99
AUD
Category: early reader
Bestselling author Vashti Hardy transports us to a world like no other in a steampunk, fantasy adventure with family at its heart. For years Grace's family have been wardens of the Griffin map, using its teleport technology to help people and fight crime across the land of Moreland. At thirteen, Grace i s too young become a warden, but she longs to go on missions herself. After all, if her brother Bren can do it, why can't she? So when Grace finds herself alone with the map when a distress call comes in, she jumps at the chance to prove she's up to the task. But the map transports Grace to a remote village where nothing is quite as it seems. Has she landed right in the middle of a treacherous scheme? ...Show more