$22.99
AUD
Category: middle reader
From the author of the award-winning His Name was Walter comes another magical mystery story that will delight Emily Rodda fans. Buttons three, attend to me! Take me where I want to be! No one saw Eliza Vanda arrive in Tidgy Bay that rainy winter afternoon. The sign advertising 'Cabins for Rent' was al most hidden by a pile of builder's rubble, but Eliza Vanda didn't seem at all put out by the mess.'This is a nice little pocket,' she said. 'It should suit us very well. ' Life hasn't been much fun for Milly Dynes lately. There seem to be problems everywhere she looks. She's always loved her home in Tidgy Bay, but at the moment she wishes she was somewhere -anywhere - else. Then Eliza Vanda turns up-and magic comes with her ... A sparkling new fantasy adventure from multi-award-winning author Emily Rodda. AWARDS FOR HIS NAME WAS WALTER:Winner - 2019 Prime Minister's Literary Awards (Children's Literature)Winner - 2019 Australian Book Design Awards (Children's Fiction Book)Winner - 2019 CBCA Book of the Year Awards (Younger Readers)Shortlisted - 2019 Davitt Awards (Children's)Shortlisted - 2019 QLD Literary Awards (Griffith University Children's Book Award)Shortlisted - 2018 Aurealis Awards (Best Young Adult Novel)   ...Show more
Don't Forget
by Jane Godwin; Anna Walker (Illustrator)
$19.99
AUD
Category: picture books
Don't forget to make your bed, and wear socks that fit your feet... Don't forget to care, to play, To run, to laugh... Sometimes, we need to remember all the things we can do to be part of the world. Small things, like offering a smile. And bigger things, like hoping, dreaming, imagining...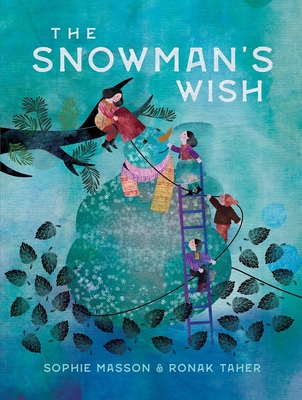 Paws
by Kate Foster
$16.99
AUD
Category: middle reader
At home, Alex's best friend is Kevin the cockapoo, although what he wants most of all is a friend at school. But that is harder than he ever expected. A touching story about learning that friendship isn't one size fits all and is often found where you least expect it. Everything is changing for 11-year- old Alex and, as an autistic person, change can be terrifying. With the first day of high school only a couple of months away, Alex is sure that having a friend by his side will help. So, he's devised a plan - impress the kids at school by winning a trophy at the PAWS Dog Show with his trusty sidekick, Kevin. This should be a walk in the park . . . right?   ...Show more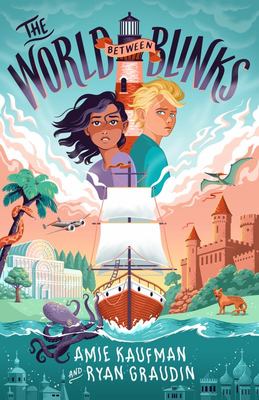 $16.99
AUD
Category: middle reader | Series: The\World Between Blinks Ser.
Discover a magical world where lost things are found ... Whenever cousins Jake and Marisol get together, adventure follows. They have their late Nana to thank for that. Her epic trips and treasure hunts were the stuff of family legend. This summer, with the whole family reuniting for one last vacation at Nana's home, the cousins are in for a legendary trip of their own. Following a map Nana left behind, Jake and Marisol sneak out to a nearby lighthouse - then accidentally slip into another world ... The World Between Blinks is a magical place, where all kinds of lost things (and people!) end up. Everywhere they turn, the cousins find real mysteries from history - plus a few they thought were only myths. But the man who holds the key to Jake and Marisol's return journey doesn't want to be found ... and if the cousins don't catch him fast, they could end up lost in this world for good. PRAISE FOR THE WORLD BETWEEN BLINKS:' An inventive, heartwarming first book in a new middle-grade series.'- Kirkus 'A brilliant, heartwarming blend of history, mystery, and adventure. I raced through every page, afraid to blink and miss part of the wonder.'- Shannon Messenger, bestselling author of Keeper of the Lost Cities Series 'A fast-paced fantasy adventure that will appeal to genre fans and reluctant middle grade readers alike.'- School Library Journal, starred review '[an] incredibly inventive story, chock-full of delightful descriptions and fascinating tidbits ... [and] a charming crash course in a host of historical mysteries and figures. Readers will have enormous fun ... all while learning lessons on the power of love, the value of memories, and the wonders that the world holds.' - Booklist, starred review ...Show more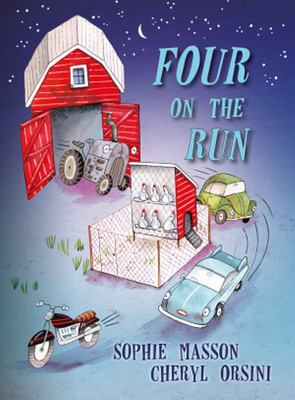 Four on the Run
by Sophie Masson; Cheryl Orsini (Illustrator); Authors' Elves (Designed by)
$13.99
AUD
Category: early reader
Maxie, Fergie, Flash and Lady are good friends who live in Mrs Brown's farm shed. Life isn't exciting, but they're happy. Until the day they learn that Mrs Brown wants to sell them--to the scrap yard! So they decide to run away: and suddenly life becomes very exciting for the four lovable machines in a series of madcap adventures that will change everything.This is an exciting, funny chapter book, with warm and interesting characters who just happen to be machines! With lively, appealing illustrations by Cheryl Orsini, Four On the Run is a fresh and original adventure which is great both for reading aloud to pre-literate children and for young readers to read for themselves. ...Show more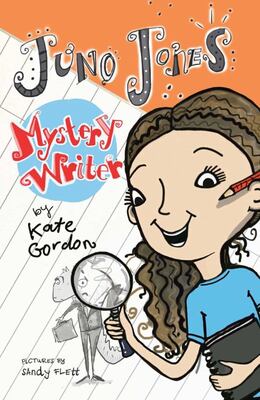 $12.99
AUD
Category: early reader
A disaster has happened! Again. Muttonbird Bay Primary is once again under threat of closure, and Juno Jones is pretty sure the Alien Lizard Men are involved. But that's not all: Shy Vi is missing, Miss Tippett is acting VERY strangely, and everyone keeps turning to Juno Jones to solve the mysteries. ...Show more
$12.99
AUD
Category: early reader
A disaster has happened! Muttonbird Bay School might be closing. I mean forever! Juno Jones loves her school but the Men in Suits want to close it down! And there's only one thing Juno and her classmates can do to stop it... Read! Which is perfectly fine but Juno Jones is A KID WHO DOESN'T LIKE READING. To save her school Juno Jones will become a WORD NINJA! ...Show more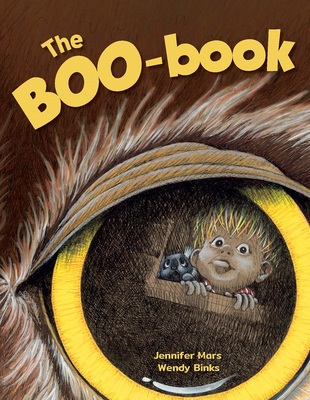 The BOO-Book
by wendy binks (Illustrator); Jennifer Mars
$15.99
AUD
Category: picture books
A picture book about boy sleeping in his tree house and hearing strange noises. A story about fear, discovery and our amazing night creatures
$29.99
AUD
Category: games
Farm Bingo is a family-friendly game packed with wonderful farm animals for hours of bingo fun.Beautifully packaged, Farm Bingo is gorgeously illustrated by award-winning illustrator Caroline Selmes the game also includes a booklet with all the things you wanted to know about farm animals. From the farm er, the scarecrow and the tractor to the pigs, chickens, cows and ducks, along with classic crops like sunflowers, corn and pumpkins, Farm Bingo has it all!Farm Bingo comes complete with 48 illustrated chips and a cardboard hay bale to store them in, a game board, eight double-sided bingo cards, and farm counters for you to mark up your card.FUN FOR THE WHOLE FAMILY: Easy to play makes Farm Bingo suitable for the whole family, children 3+. Fill your game card first with all the farm favourites. From the farmer, the scarecrow and the tractor to the pigs, chickens, cows and ducks, along with classic crops like sunflowers, corn and pumpkins, Farm Bingo has it all!2-8 PLAYERS: ages 3+FUN & COLOURFUL: Kids will love the colourful farm illustrations by Caroline Selmes. The compact box makes it easy to take anywhere on the go, perfect for holidays!EDUCATIONAL: Learn the farm yard animals as you play, matching the farm counters to your game board. The first to cover all shouts BINGO and crowned the winner.SCREEN-FREE FUN: Spend quality time away from screens with this easy-to-play children.s bingo game. The game includes 8 double sided game boards so it can be played many times over.Also available in the Laurence King Children's Bingo series are: Dinosaur Bingo, Jungle Bingo, Scary Bingo, Wonder Women Bingo and Poo Bingo.Our adult Bingo series features: Bird Bingo, Bug Bingo, Cat Bingo, Dog Bingo, Monkey Bingo, Ocean Bingo, and Royal Bingo.   ...Show more
$24.99
AUD
Category: picture books
An Australian chicken breeder, Mr McFowler, fails to win competitions with his prized chicken, Hector, mainly because Hector had a nose pecking habit and an inability to remain still when being judged. Mr McFowler was downcast as he felt Hector was the best bird he had ever bred and his greatest chance of winning Champion Bird of the Show. Mr McFowler, of Scottish descent loves to play old Scottish songs in his shed and sometimes dance to them. One day Hector starts dancing with him to his records. Mr McFowler sees an opportunity and he and Hector train the other chickens to become Highland Dancers. Mr McFowler is a resourceful man and makes things to aid with training. He dusts off his bagpipes and provides the music for the troupe. It was a difficult task for Hector to mould the sometimes-reluctant individual chickens into a precision team. He eventually succeeds and they perform at local agricultural shows, the the Sydney Royal and finally get an invitation to perform at the famous Edinburgh Tattoo in Scotland, where they woo audiences with their amazing precision performance. They are feted and Mr McFowler is very proud that his prized chicken, which failed to become a champion show bird, was now a champion leader of a successful highland dance troupe. Mr McFowler, a romantically na ve bachelor, even makes a surprising romantic connection ...Show more