$32.99
AUD
Category: science fiction fantasy
To Sleep in a Sea of Stars is a brand new epic novel from New York Times bestselling author Christopher Paolini. Exploring new worlds is all Kira Navarez ever dreamed of doing. But now she has found her nightmare.  On a distant planet ripe for a colony, she has discovered a relic previously unseen by human eyes.   It will transform her entirely and forever.   Humanity will face annihilation.   She is alone. We are not.   There is no going back.   ...Show more
Piranesi
by Susanna Clarke
$27.99
AUD
Category: science fiction fantasy
From the New York Times bestselling author of Jonathan Strange & Mr Norrell, an intoxicating, hypnotic new novel set in a dreamlike alternative reality. Piranesi's house is no ordinary building: its rooms are infinite, its corridors endless, its walls are lined with thousands upon thousands of stat ues, each one different from all the others. Within the labyrinth of halls an ocean is imprisoned; waves thunder up staircases, rooms are flooded in an instant. But Piranesi is not afraid; he understands the tides as he understands the pattern of the labyrinth itself. He lives to explore the house. There is one other person in the house-a man called The Other, who visits Piranesi twice a week and asks for help with research into A Great and Secret Knowledge. But as Piranesi explores, evidence emerges of another person, and a terrible truth begins to unravel, revealing a world beyond the one Piranesi has always known. For readers of Neil Gaiman's The Ocean at the End of the Lane and fans of Madeline Miller's Circe, Piranesi introduces an astonishing new world, an infinite labyrinth, full of startling images and surreal beauty, haunted by the tides and the clouds.   ...Show more
$22.99
AUD
Category: science fiction fantasy | Series: The Mirror Visitor
It has been almost three years since Thorn disappeared. Encouraged by revelations from Farouk's Book, our feisty heroine Orphelia decides to act--and continue to challenge authority in her quest for truth and freedom. Under a false identity, she travels to the ark of Babel, a joyful, modern and cosmopo litan territory. Hidden in the heart of Babel is an elusive secret, which is at once the key to the past and to an uncertain future. Will Ophelia's talents as a reader be enough to avoid the traps of her increasingly formidable enemies? Does she have even the slightest chance of finding Thorn again? The Memory of Babel is the captivating third volume in the hugely popular Mirror Visitor series, and ends on another almighty cliffhanger, before the final volume, appearing next year. ...Show more
$18.99
AUD
Category: science fiction fantasy | Series: Flamingo Modern Classics Ser. | Reading Level: very good
Ray Bradbury's internationally acclaimed novel Fahrenheit 451 is a masterwork of twentieth-century literature set in a bleak, dystopian future. Guy Montag is a fireman. In his world, where television rules and literature is on the brink of extinction, firemen start fires rather than put them out. His jo b is to destroy the most illegal of commodities, the printed book, along with the houses in which they are hidden. Montag never questions the destruction and ruin his actions produce, returning each day to his bland life and wife, Mildred, who spends all day with her television "family." But then he meets an eccentric young neighbor, Clarisse, who introduces him to a past where people didn't live in fear and to a present where one sees the world through the ideas in books instead of the mindless chatter of television. When Mildred attempts suicide and Clarisse suddenly disappears, Montag begins to question everything he has ever known. He starts hiding books in his home, and when his pilfering is discovered, the fireman has to run for his life. ...Show more
$32.99
AUD
Category: science fiction fantasy
Number one bestselling author Stephenie Meyer makes a triumphant return to the world of Twilight with this highly-anticipated companion; the iconic love story of Bella and Edward told from the vampire's point of view. When Edward Cullen and Bella Swan met in Twilight, an iconic love story was born. But until now, fans have heard only Bella's side of the story. At last, readers can experience Edward's version in the long-awaited companion novel, MIDNIGHT SUN.This unforgettable tale as told through Edward's eyes takes on a new and decidedly dark twist. Meeting Bella is both the most unnerving and intriguing event he has experienced in all his years as a vampire. As we learn more fascinating details about Edward's past and the complexity of his inner thoughts, we understand why this is the defining struggle of his life. How can he justify following his heart if it means leading Bella into danger? In MIDNIGHT SUN, Stephenie Meyer transports us back to a world that has captivated millions of readers and brings us an epic novel about the profound pleasures and devastating consequences of immortal love. ...Show more
$32.99
AUD
Category: science fiction fantasy | Series: The\Great Cities Trilogy Ser. | Reading Level: very good
'The most celebrated science fiction and fantasy writer of her generation... Jemisin seems able to do just about everything' - NEW YORK TIMES. 'Jemisin is now a pillar of speculative fiction, breathtakingly imaginative and narratively bold' - ENTERTAINMENT WEEKLY. Five New Yorkers must band together to defend their city in the first book of a stunning new series by Hugo award-winning and New York Times bestselling author N. K. Jemisin. Every city has a soul. Some are as ancient as myths, and others are as new and destructive as children. New York City? She's got five. But every city also has a dark side. A roiling, ancient evil stirs beneath the earth, threatening to destroy the city and her five protectors unless they can come together and stop it once and for all.   ' The most critically acclaimed author in contemporary science fiction and fantasy' GQ 'N. K. Jemisin is a powerhouse of speculative fiction' - BUSTLE ...Show more
$19.99
AUD
Category: science fiction fantasy | Series: Vintage Magic Ser. | Reading Level: good
"The circus arrives without warning. No announcements precede it. It is simply there, when yesterday it was not. The black sign, painted in white letters that hangs upon the gates, reads- 'Opens at Nightfall, Closes at Dawn' the sun disappears beyond the horizon, all over the tents small lights begin to flicker, as though the entirety of the circus is covered in particularly bright fireflies. When the tents are all aglow, sparkling against the night sky, the sign appears. 'Le Cirque des Reves -  Circus of Dreams'. Now the circus is open. Now you may enter." ...Show more
$22.99
AUD
Category: science fiction fantasy | Series: The\Legacy Trilogy Ser.
Legacy of Ash is an epic tale of war and revolution, packed with vicious intrigue, ancient magic and a host of memorable characters - an unmissable fantasy debut from an exciting new British talent. A shadow has fallen over the Tressian Republic. Ruling families - once protectors of justice and democr acy - now plot against one another with sharp words and sharper knives. Blinded by ambition, they remain heedless of the threat posed by the invading armies of the Hadari Empire. Yet as Tressia falls, heroes rise. Viktor Akadra is the Republic's champion. A warrior without equal, he hides a secret that would see him burned as a heretic. Josiri Trelan is Viktor's sworn enemy. A political prisoner, he dreams of reigniting his mother's failed rebellion. And yet Calenne, Josiri's sister, seeks only to break free of their tarnished legacy; to escape the expectation and prejudice that haunts the Trelan name. As war spreads across the Republic, these three must set aside their differences in order to save their homeland. However, decades of bad blood are not easily set aside - victory will demand a darker price than any of them could have imagined. ...Show more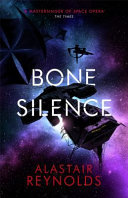 $32.99
AUD
Category: science fiction fantasy | Reading Level: near fine
'A swashbuckling thriller - Pirates of the Caribbean meets Firefly - that nevertheless combines the author's trademark hard SF with effective, coming-of-age characterisation' GUARDIAN 'A blindingly clever imagining of our solar system in the far flung future' SUN Returning to the universe of Revenger, a ward-winning author Alastair Reynolds delivers another thrilling tale set among the stars. Two sisters ran away from home to join the crew of a spaceship. They took on pirates, faced down monsters and survived massacres . . . and now they're in charge. Captaining a fearsome ship of their own, adventures are theirs for the taking. But Captain Bosa's fearsome reputation still dogs their heels, and they're about to discover that, out in space, no one forgives, and no one forgets . . . 'A rollicking adventure yarn with action, abduction, fights, properly scary hazards, very grisly torture and even ghosts of a sort' DAILY TELEGRAPH 'By far the most enjoyable book Reynolds has ever written' SFX ...Show more
$22.99
AUD
Category: science fiction fantasy
In this epic fantasy novel, an acclaimed playwright and a terrible liar might be the hope of an empire when he's compelled to take on a role that will grant him fame, fortune, and immortality . . . if it doesn't kill him first. The City may be under siege, but everyone still has to make a living. Take Notker, the playwright, actor and impresario. Nobody works harder, even when he's not working. Thankfully, the good citizens of Classis appreciate an evening at the theatre even when there are large rocks falling out of the sky. But Notker is a man of many talents, and all the world is, apparently, a stage. It seems that the Empire needs him -- or someone who looks a lot like him -- for a role that will call for the performance of a lifetime. This is the story of Notker, an occasionally good man and a bad liar, written down because eventually the truth always seeps through. With razor-sharp wit, K.J. Parker has created one of fantasy's greatest heroes, and he might even get away with it. For more from K. J. Parker, check out: Sixteen Ways to Defend a Walled City The Two of Swords The Two of Swords: Volume One The Two of Swords Volume Two The Two of Swords: Volume Three The Fencer Trilogy Colours in the Steel The Belly of the Bow The Proof House The Scavenger Trilogy Shadow Pattern Memory Engineer Trilogy Devices and Desires Evil for Evil The Escapement The Company The Folding Knife The Hammer Sharps ...Show more
$32.99
AUD
Category: science fiction fantasy | Series: The\Age of Madness Ser.
Second in the AGE OF MADNESS trilogy, THE TROUBLE WITH PEACE is the next instalment of a series which is revolutionising fantasy . . . War. Politics. Revolution. The Age of Madness has arrived . . .   Joe Abercrombie is doing some terrific work - George R. R. Martin 'No one writes with the seismic s cope or primal intensity of Joe Abercrombie' Pierce Brown 'Delightfully twisted and evil' The Guardian 'Witty, Bloody and fun' Nicholas Eames 'A vivid and jolting tale' Robin Hobb ...Show more
$22.99
AUD
Category: science fiction fantasy
Peter Grant is facing fatherhood, and an uncertain future, with equal amounts of panic and enthusiasm. Rather than sit around, he takes a job with émigré Silicon Valley tech genius Terrence Skinner's brand new London start up - the Serious Cybernetics Company. Drawn into the orbit of Old Street's famou s 'silicon roundabout', Peter must learn how to blend in with people who are both civilians and geekier than he is. Compared to his last job, Peter thinks it should be a doddle. But magic is not finished with Mama Grant's favourite son. Because Terrence Skinner has a secret hidden in the bowels of the SCC. A technology that stretches back to Ada Lovelace and Charles Babbage, and forward to the future of artificial intelligence. A secret that is just as magical as it technological - and just as dangerous. ...Show more