$32.99
AUD
Category: science fiction fantasy
From the visionary New York Times bestselling author of New York 2140 comes a near-future novel that is a gripping exploration of climate change, technology, politics, and the human behaviors that drive these forces. Established in 2025, the purpose of the new organisation was simple: To advocate for th e world's future generations and to protect all living creatures, present and future. It soon became known as the Ministry for the Future, and this is its story. From legendary science fiction author Kim Stanley Robinson comes a vision of climate change unlike any ever imagined. Told entirely through fictional eye-witness accounts, The Ministry For The Future is a masterpiece of the imagination, the story of how climate change will affect us all over the decades to come. Its setting is not a desolate, post-apocalyptic world, but a future that is almost upon us - and in which we might just overcome the extraordinary challenges we face. It is a novel both immediate and impactful, desperate and hopeful in equal measure, and it is one of the most powerful and original books on climate change ever written. ...Show more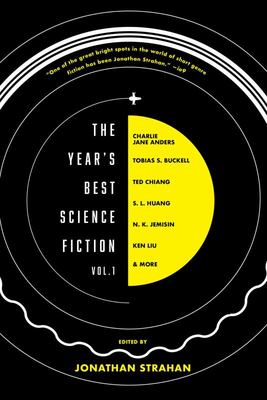 $32.99
AUD
Category: science fiction fantasy
A must-have collection of the best short science fiction and speculative fiction of 2019, showcasing brilliant talent and examining the cultural moment we live in, compiled by award-winning editor Jonathan Strahan.   With short works from some of the most lauded science fiction authors, as well as ri sing stars, this collection displays the top talent and the cutting-edge cultural moments that affect our lives, dreams, and stories. Authors include past award-winners Rebecca Roanhorse, Ken Liu, Carmen Maria Machado, Aliette de Boddard, Kim Stanley Robinson, Yoon Ha Lee, and Ted Chiang.   An assemblage of future classics, this anthology is a must-read for anyone who enjoys the vast and exciting world of science fiction. ...Show more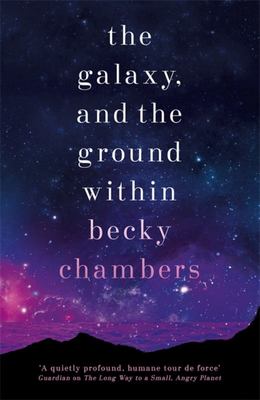 $32.99
AUD
Category: science fiction fantasy | Series: Wayfarers Ser.
Sunday Times bestselling author Becky Chambers returns to the Galactic Commons in the final installment in her award-winning and critically acclaimed Wayfarers series. With no water, no air, and no native life, the planet Gora is unremarkable. The only thing it has going for it is a chance proximity to more popular worlds, making it a decent stopover for ships traveling between the wormholes that keep the Galactic Commons connected. If deep space is a highway, Gora is just your average truck stop. One of the many establishments present is the Five-Hop One-Stop, a place where long-haul spacers can stretch their legs (if they have legs, that is), and pick up fuel, transit permits, and assorted supplies. The Five-Hop is run by an enterprising alien and her occasionally helpful child, who both work hard to provide a little piece of home to everyone passing through. When a freak technological failure halts traffic to and from Gora, three strangers are thrown together at the Five-Hop. Grounded, and with nothing to do but wait, the trio - an exiled artist with an appointment to keep, a cargo runner at a personal crossroads, and a mysterious individual doing her best to help those on the fringes - are compelled to confront where they've been, where they might go, and what they might be to each other. PRAISE FOR THE WAYFARERS 'Becky Chambers is a wonder, and I feel better for having her books in my life' JOHN CONNOLLY 'In a word, brilliant' ANDREW CALDECOTT 'A quietly profound, humane tour de force' GUARDIAN 'Chambers is simply an exceptional talent'TOR.COM 'Becky Chambers takes space opera in a whole new and unexpected direction' BEN AARONOVITCH ...Show more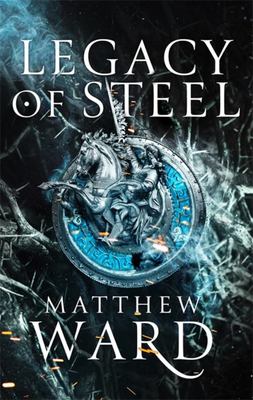 $32.99
AUD
Category: science fiction fantasy | Series: The\Legacy Trilogy Ser.
Warfare, myth and magic collide in Legacy of Steel, the spectacular sequel to Matthew Ward's acclaimed fantasy debut, Legacy of Ash. A year has passed since an unlikely alliance saved the Tressian Republic from fire and darkness - at great cost. Thousands perished, and Viktor Akadra - the Republic's ch ampion - has disappeared. While the ruling council struggles to mend old wounds, other factions sense opportunity. The insidious Parliament of Crows schemes in the shadows, while to the east the Hadari Emperor gathers his armies. As turmoil spreads across the Republic, its ripples are felt in the realms of the divine. War is coming . . . and this time the gods themselves will take sides. Praise for the series: 'A hugely entertaining debut' John Gwynne 'Epic fantasy as it should be; big, bold and very addictive' Starburst 'Incredible action scenes' Fantasy Hive 'Magnificent and epic' Grimdark Magazine   ...Show more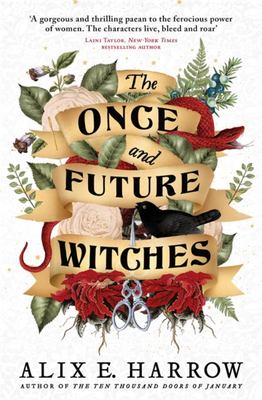 $32.99
AUD
Category: science fiction fantasy
In the late 1800s, three sisters use witchcraft to change the course of history in Alix E. Harrow's powerful novel of magic and the suffragette movement. In 1893, there's no such thing as witches. There used to be, in the wild, dark days before the burnings began, but now witching is nothing but tidy ch arms and nursery rhymes. If the modern woman wants any measure of power, she must find it at the ballot box. But when the Eastwood sisters -- James Juniper, Agnes Amaranth, and Beatrice Belladonna -- join the suffragists of New Salem, they begin to pursue the forgotten words and ways that might turn the women's movement into the witch's movement. Stalked by shadows and sickness, hunted by forces who will not suffer a witch to vote -- and perhaps not even to live -- the sisters will need to delve into the oldest magics, draw new alliances, and heal the bond between them if they want to survive. There's no such thing as witches. But there will be. For more from Alix E. Harrow, check out The Ten Thousand Doors of January. ...Show more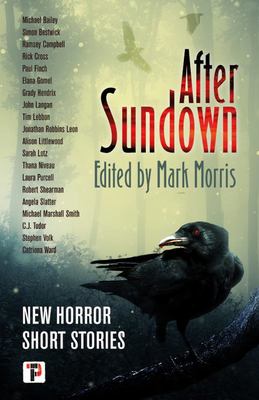 $26.99
AUD
Category: science fiction fantasy | Series: Fiction Without Frontiers Ser.
This rich and masterful collection of horror highlights both up-and-coming and established authors in an interesting twist on the standard anthology ...] Highly recommended for longstanding horror fans and those readers who may not think horror is for them. There is something for everyone in this one. -- Booklist This new anthology contains 20 original horror stories, 16 of which have been commissioned from some of the top names in the genre, and 4 of which have been selected from the 100s of stories sent to Flame Tree during a 2-week open submissions window. It is the first of what will hopefully become an annual, non-themed horror anthology of entirely original stories, showcasing the very best short fiction that the genre has to offer. Contents List: BUTTERFLY ISLAND by C.J. Tudor RESEARCH by Tim Lebbon SWANSKIN by Alison Littlewood THAT'S THE SPIRIT by Sarah Lotz GAVE by Michael Bailey WHEREVER YOU LOOK by Ramsey Campbell SAME TIME NEXT YEAR by Angela Slatter MINE SEVEN by Elana Gomel IT DOESN'T FEEL RIGHT by Michael Marshall Smith CREEPING IVY by Laura Purcell LAST RITES FOR THE FOURTH WORLD by Rick Cross WE ALL COME HOME by Simon Bestwick THE IMPORTANCE OF ORAL HYGIENE by Robert Shearman BOKEH by Thana Niveau MURDER BOARD by Grady Hendrix ALICE'S REBELLION by John Langan THE MIRROR HOUSE by Jonathan Robbins Leon THE NAUGHTY STEP by Stephen Volk A HOTEL IN GERMANY by Catriona Ward BRANCH LINE by Paul Finch FLAME TREE PRESS is the new fiction imprint of Flame Tree Publishing. Launched in 2018 the list brings together brilliant new authors and the more established; the award winners, and exciting, original voices. ...Show more
$18.99
AUD
Category: science fiction fantasy | Series: Teixcalaan Ser.
"A Memory Called Empire perfectly balances action and intrigue with matters of empire and identity. All around brilliant space opera, I absolutely love it."--Ann Leckie, author of Ancillary JusticeAmbassador Mahit Dzmare arrives in the center of the multi-system Teixcalaanli Empire only to discover that her predecessor, the previous ambassador from their small but fiercely independent mining Station, has died. But no one will admit that his death wasn't an accident--or that Mahit might be next to die, during a time of political instability in the highest echelons of the imperial court. Now, Mahit must discover who is behind the murder, rescue herself, and save her Station from Teixcalaan's unceasing expansion--all while navigating an alien culture that is all too seductive, engaging in intrigues of her own, and hiding a deadly technological secret--one that might spell the end of her Station and her way of life--or rescue it from annihilation. A fascinating space opera debut, Arkady Martine's A Memory Called Empire is an interstellar mystery adventure."The most thrilling ride ever. This book has everything I love."--Charlie Jane Anders, author of All the Birds in the Sky ...Show more
$19.99
AUD
Category: science fiction fantasy | Series: The\Poppy War Ser.
The searing follow-up to 2018's most celebrated fantasy debut - THE POPPY WAR. Rin is on the run ... Haunted by the terrible choices she had to make to save her people, Rin's only reason for living is to take revenge on the traitorous Empress who sold her homeland to its enemies. Forced to ally with the powerful Dragon Warlord in his plan to unseat the Empress, Rin throws herself into the struggle using the fearsome power bestowed on her by the vengeful god Phoenix After all, making war is all she knows how to do ... ...Show more
$29.99
AUD
Category: science fiction fantasy | Series: Poppy War Ser.
The exciting end to The Poppy War trilogy, R.F. Kuang's acclaimed, award-winning epic fantasy that combines the history of 20th-century China with a gripping world of gods and monsters, to devastating, enthralling effect. After saving her nation of Nikan from foreign invaders and battling the evil Empr ess Su Daji in a brutal civil war, Fang Runin was betrayed by allies and left for dead. Despite her losses, Rin hasn't given up on those for whom she has sacrificed so much - the people of the southern provinces and especially Tikany, the village that is her home. Returning to her roots, Rin meets difficult challenges - and unexpected opportunities. While her new allies in the Southern Coalition leadership are sly and untrustworthy, Rin quickly realizes that the real power in Nikan lies with the millions of common people who thirst for vengeance and revere her as a goddess of salvation. Backed by the masses and her Southern Army, Rin will use every weapon to defeat the Dragon Republic, the colonizing Hesperians, and all who threaten the shamanic arts and their practitioners. As her power and influence grows, though, will she be strong enough to resist the Phoenix's intoxicating voice urging her to burn the world and everything in it? ...Show more
$32.99
AUD
Category: science fiction fantasy
It started with poison and rebellion. It continues with war and witchcraft. The deadly siege of Silasta woke the ancient spirits, and the city-state must find its place in this new world of magic. But people and politics are always treacherous, and it will take all of Jovan and Kalina's skills to save t he city-state when witches and assassins set their sights to domination. Poison was only the beginning . . .   ...Show more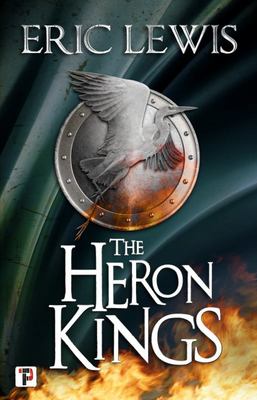 $26.99
AUD
Category: science fiction fantasy | Series: Fiction Without Frontiers Ser.
Lewis's excellent debut introduces a band of well-drawn outlaws who don't care who wins the civil war that's ravaging their land, just so long as it ends. -- Publishers Weekly After a warlord slaughters her patients, Sister Alessia quits the cloister and strikes out on her own to heal the victims of a b rutal dynastic conflict. Her roaming forest camp unwittingly becomes the center of a vengeful peasant insurgency, raiding the forces of both sides to survive. Alessia struggles to temper their fury as well as tend wounds, consenting to ever greater violence to keep her new charges safe. When they uncover proof of a foreign conspiracy prolonging the bloodshed, Alessia risks the very lives she's saved to expose the truth and bring the war to an end. FLAME TREE PRESS is the new fiction imprint of Flame Tree Publishing. Launched in 2018 the list brings together brilliant new authors and the more established; the award winners, and exciting, original voices. ...Show more
$32.99
AUD
Category: science fiction fantasy | Series: Stormlight Archive Ser.
The Stormlight Archive saga continues inRhythm of War, the eagerly awaited sequel to Brandon Sanderson's #1New York Times bestsellingOathbringer, from an epic fantasy writer at the top of his game. After forming a coalition of human resistance against the enemy invasion, Dalinar Kholin and his Knights R adiant have spent a year fighting a protracted, brutal war. Neither side has gained an advantage. Now, as new technological discoveries begin to change the face of the war, the enemy prepares a bold and dangerous operation. The arms race that follows will challenge the very core of the Radiant ideals, and potentially reveal the secrets of the ancient tower that was once the heart of their strength.   ...Show more