To My Country
by Ben Lawson; Bruce Whatley (Illustrator)
$29.99
AUD
Category: writing poetry literature
On January 10, Ben touched the hearts of Australians with the reading of his poem To My Country in response to the Australian bushfires. This gorgeous 4 colour book combines Ben's heartfelt words with stunning illustrations by Bruce Whatley.  
$29.99
AUD
Category: writing poetry literature
'In a Time of Distance', the poem from which the collection take its title, was written at the start of the global pandemic which struck at the start of 2020, here the author reminds us of what is important in life and to focus on love, friendship and family. And it is this approach to life that makes t his collection a captivating celebration of love and friendship, of Scotland and people, of animals and books. Looking at the World through the lens of this writer, it is a better, more humane place. Throughout the collection there are moments of swoop and soar, descriptions that will make you laugh and realign your view. The author reminds us to look at the World differently, to stop once in while and look up at the sky.This collection is a quiet and fragile beauty. ...Show more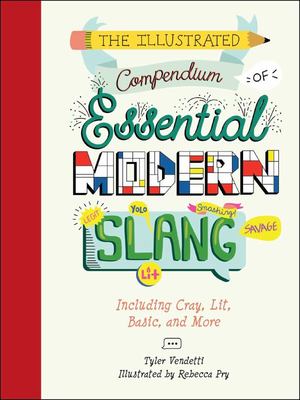 $35.00
AUD
Category: writing poetry literature | Series: Illustrated Compendium Ser.
The Illustrated Compendium of Essential Modern Slang is an illustrated dictionary of the zaniest jargon, including everything from ankle-biter to zazzy! Complete with definitions, roots, and absurd usage quotes, these 300+ words are sure to make you go, "What does that mean?" What do your grandmother, your math teacher, your soccer coach, and your booger of a brother all have in common? They all have used slang at some point in their lives! Whether they were getting "jiggy" with it in the '90s or raving about the "cat's pajamas" in the ' 20s, everyone has experienced the joy that comes with these coded exchanges. In this illustrated volume, we'll take a walk down memory lane, exploring the best, worst, and most lit terms that have ever graced the pages of the English dictionary.  Need an example? We've got plenty--300+ to be exact!--including: Canary (noun): a female singer, the likes of which you might find "chirping" along at the front of the jazzy musical group that your mom hired for your bat mitzvah. Greaser (noun): a tough guy who is as slick as the hair products that he soaks his fro' in.  Tubular (adjective): breathtaking, like the wave the dad who said it is probably cruising on. Bounce (verb): to leave quickly and suddenly before anyone can hear you use the word bounce. Tea (noun): The hot goss that your friend's been holding onto, like a literal cup of burning tea she's waiting to toss in your face when the time is right. The Illustrated Compendium of Essential Modern Slang is jam-packed with "dope" slang words, their origin stories, hilarious usage quotes, and a pronunciation guide so you can properly enunciate that funny word that no one understands. From millennial jargon to Gen Z lingo, this comprehensive collection of modern slang is sure to make you go cray (in a good way). ...Show more
$19.99
AUD
Category: writing poetry literature
''An utterly delightful book to read, Dreyer''s Englishwill stand among the classics on how to use the English language properly.'' ELIZABETH STROUT ''A complete joy. For those who care about words - and for those who don''t - Dreyer''s English is the book we have all been waiting for. Wise, funny, no-n onsense, stylish and brilliantly practical. Ditch the beach books this year; take this instead.''RACHEL JOYCE _______________________ An indispensable, New York Times-bestsellingguide to the craft of writing from Random House''s long-time copy chief and one of Twitter''s leading language gurus. We all write, all the time- books, blogs, tweets, emails, emails, emails - and we all want to write better. Benjamin Dreyer is here to help. As Random House''s copy chief, Dreyer has upheld the standards of the legendary publisher for more than two decades. He is beloved by authors and editors alike - not to mention his followers on social media - for playfully, brilliantly deconstructing the English language. Dreyer''s English is the distillation of everything he has learned from copyediting thousands of books, the perfect guide not just for writers but for everyone who wants to put their best prose foot forward. Both authoritative and amusing, Dreyer''s Englishoffers lessons on punctuation, from the underloved semicolon to the enigmatic en-dash; the rules and non-rules of grammar, including why it''s OK to begin a sentence with ''And'' or ''But'' and to confidently split an infinitive; and why it''s best to avoid the doldrums of the Wan Intensifiers and Throat Clearers, including ''very'', ''rather'', ''of course'', and the dreaded ''actually''. And yes- ''Only godless savages eschew the Oxford comma.'' Stuffed with advice, insider wisdom, and fun facts, this book will prove to be invaluable to everyone who wants to shore up their writing skills, mandatory for people who spend their time editing and shaping other people''s prose, and - perhaps best of all - an utter treat for anyone who simply revels in language. _______________________ This book is written in British English._______________________''A fascinating guide to grammatical "rights" and "wrongs" - practical and useful''SUNDAY TIMES ''Benjamin Dreyer''s brilliant, pithy, incandescently intelligent book is to contemporary writing what Geoffrey Chaucer''s poetry was to medieval English- a gift that broadens and deepens the art and the science of literature by illustrating that convention should not stand in the way of creativity, so long as that creativity is expressed with clarity and with conviction.'' JON MEACHAM ''Meet the guardian of grammar who wants to help you be a better writer. Benjamin Dreyer sees language the way an epicure sees food. And he finds sloppiness everywhere he looks.''THE NEW YORK TIMES ''A fascinating guide to grammatical ''rights'' and ''wrongs'' - practical and useful'' SEBASTIAN FAULKS,SUNDAY TIMES ''If learning about the pillars of punctuation and grammar doesn''t excite you, let Benjamin Dreyer change your mind ... he analyzes the English language without dipping into the drab technicalities, crafting a pleasing read for anyone who has an appreciation for the written word.''TIME MAGAZINE,BEST 10 NON-FICTION BOOKS OF 2019 ''Witty and piquant ... full of jokes - and equally full of deliciously deprecating footnotes.'' JEWISH CHRONICLE ''Playful, smart, self-conscious, and personal . . . One encounters wisdom and good sense on nearly every page of Dreyer''s English.''WALL STREET JOURNAL ''Destined to become a classic.''THE MILLIONS ''A mind-blower--sure to jumpstart any writing project, just by exposing you, the writer, to Dreyer''s astonishing level of sentence-awareness.'' GEORGE SAUNDERS, author of Lincoln in the Bardo ''Pleasurable and instructive ... You can read Dreyer''s Englishright through with unalloyed enjoyment, and learn a lot from it- not only from its rulings but from its attitude ... Benjamin Dreyer is wise and bitterly experienced and fantastically good company. You should buy his book and read it.'' TIMES LITERARY SUPPLEMENT ''Dreyer can help you . . . with tips on punctuation and spelling. . . . Even better- He''ll entertain you while he''s at it.''NEWSDAY ''Boisterously well written ... I recommend it highly.'' INDEPENDENT ''It is Benjamin Dreyer''s intense love for the English language and his passion for the subject that make the experience of reading Dreyer''s Englishsuch a pleasure, almost regardless of the invaluable and practical purpose his book serves in such dark and confusing times for grammar and meaning.'' AYELET WALDMAN & MICHAEL CHABON ''An informative and entertaining handbook on how to write clearer English. It''s pithy, witty and a near perfect example of the kind of writing it advocates'' STING ''Dreyer promises to reveal "some of the fancy little tricks I''ve come across or devised that can make even skilled writing better", and does so with accuracy, style, and humour'' GUARDIAN ''This work is that rare writing handbook that writers might actually want to read straight through, rather than simply consult.'' PUBLISHERS WEEKLY ...Show more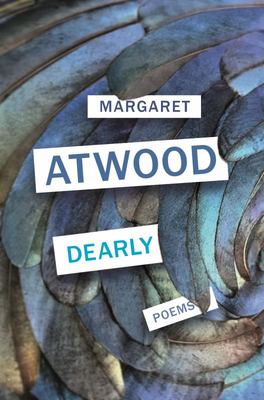 $27.99
AUD
Category: writing poetry literature | Reading Level: near fine
The collection of a lifetime from the bestselling novelist and poet.By turns moving, playful and wise, the poems gathered in Dearly are about absences and endings, ageing and retrospection, but also about gifts and renewals. They explore bodies and minds in transition, as well as the everyday objects an d rituals that embed us in the present. Werewolves, sirens and dreams make their appearance, as do various forms of animal life and fragments of our damaged environment.Before she became one of the world's most important and loved novelists, Atwood was a poet. Dearly is her first collection in over a decade. It brings together many of her most recognizable and celebrated themes, but distilled - from minutely perfect descriptions of the natural world to startlingly witty encounters with aliens, from pressing political issues to myth and legend. It is a pure Atwood delight, and long-term readers and new fans alike will treasure its insight, empathy and humour. ...Show more
$29.99
AUD
Category: writing poetry literature
New York Times bestselling author Gabbie Hanna delivers everything from curious musings to gut-wrenching confessionals in her long-awaited sophomore collection of poetry. In this thrilling installment of the inner-workings of Gabbie's mind, we're taken on a journey of self-loathing, self-reflection, an d, ultimately, self-acceptance through deeply metaphorical imagery, chilling twists on child-like rhymes, and popular turns of phrase turned on their heads. Through raw, provocative tidbits, Dandelion explores what it means to struggle with a declining mental health in a world where mental health is both stigmatized and trivialized. The poems range from topics of rage and despair to downright silliness, so if you don't know whether to laugh or cry, just laugh until you cry. Exclusive bonus content: a collection of uncomfortably honest personal essays about Gabbie's childhood and relationships. ...Show more
$39.99
AUD
Category: writing poetry literature
Prose poetry is a resurgent literary form in the English-speaking world and has been rapidly gaining popularity in Australia. Cassandra Atherton and Paul Hetherington have gathered a broad and representative selection of the best Australian prose poems written over the last fifty years. The Anthology of Australian Prose Poetryincludes numerous distinguished prose poets--Jordie Albiston, joanne burns, Gary Catalano, Anna Couani, Alex Skovron, Samuel Wagan Watson, Ania Walwicz and many more; and documents prose poetry's growing appeal over recent decades, from the poetic margins to the mainstream. This collection reframes our understanding not only of this dynamic poetic form, but of Australian poetry as a whole. ...Show more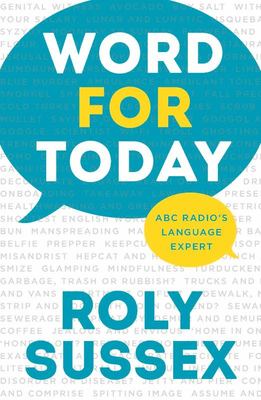 $24.99
AUD
Category: writing poetry literature
Did you know that the word salary comes from the Latin salfor 'salt', since part of the payment to Roman soldiers was in salt? That braces and suspenders used to refer to different items of clothing? Or that trolls have migrated from fairytales to online discussion forums? The English language is curren tly going through a period of tremendous ferment, growth and expansion. Old 'rules' are being challenged, or weakened. New ones are emerging. And mistakes and misuses are popping up with all the speed that the internet can provide. For over two decades, linguist Roly Sussex has documented the nature and evolution of the English Language on his popular weekly ABC Radio program 'Word for Today'. For the first time, the best of these reflections on word origins, neologisms and misuses are collected in this witty and insightful book. With Word for Today, you'll always have a word for tomorrow. ...Show more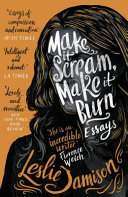 $22.99
AUD
Category: writing poetry literature
From the author of The Empathy Exams comes a profound meditation on isolation, longing and the conflicts faced by all those who choose to tell true stories about the lives of others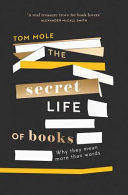 $22.99
AUD
Category: writing poetry literature
We love books. We take them to bed with us. They weigh down our suitcases on holiday. We display them on our bookshelves, give them as gifts, write our names in them. We take them for granted. And all the time, our books are leading a double life.   The Secret Life of Books is about everything that isn 't just the words. It's about how books transform us as individuals, the stories they tell us about  ourselves. It's about how books - and readers - have evolved over time. And it's about why, even with the arrival of other media, books still have the power to change our lives.   In this stylish and thought-provoking meditation, Tom Mole looks at everything from binding innovations to binding errors, to books defaced by lovers, to those imprisoning professors in their offices, to books in art, to burned books, to the books that create nations, to those we'll leave behind. A striking text in a stunning package, it will change how you think about books.  ...Show more
$34.99
AUD
Category: writing poetry literature
Essentially, this is Clive James' desert island poems: a selection of his favourite verse and a personal commentary on each.The Fire of Joy was the final book Clive James completed before his death in 2019. It takes its title from the French expression Feu de Joie, which refers to a military celebration when all the riflemen of a regiment fire one shot after another in a wave of continuous sound: it is a reminder that the regiment's collective power relies on the individual, and vice versa.In this book, James has chosen a succession of English poems, exploding in sequence from Chaucer to the present day; they tell the story of someone writing something wonderful, and someone else coming along, reading it, and feeling impelled to write something even more wonderful. After a lifetime, these are the poems James found so good that he remembered them despite himself. In offering them to you, the main purpose of this book is to provide ammunition that will satisfy your urge to discover, learn and declaim verse.As well as his selection of poems, James offers a commentary on each: whether this is a biographical, historical or critical introduction to the poem, or a more personal anecdote about the role a particular poem has played in James's life, these mini essays provide the joy of James's enthusiasm and the benefit of his knowledge. Full of the flashing fires of poems you will not be able to forget, this book will ignite your passion and leave you with a contagious crackle rattling in your ears. ...Show more