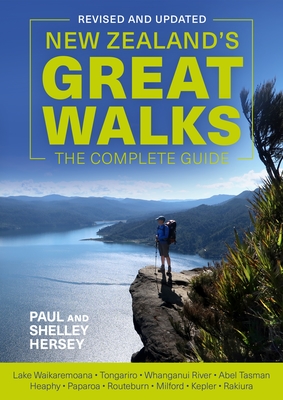 $39.99
AUD
Category: travel
New Zealand's Great Walks are world class. In a country blessed with hundreds of spectacular tracks to choose from, these are considered the best of the best. They pass through some of our most breathtaking landscapes - including golden sand beaches, ancient rainforests and high mountains. New Zealand's Great Walks- The Complete Guide is the only handbook anyone will need to experience these outdoor adventures. Each of the walks (and one river journey) is presented in a clear, user-friendly way, including- - An overview and highlights - Planning notes - Track description - Points of interest - Other things to do in the area Also included in the book is- - A brief history of the Great Walks - Conservation information - Notes on how to prepare for your trip - Useful websites and resources Authored by expert outdoor enthusiasts Paul and Shelley Hersey and fully illustrated with maps and stunning photography, New Zealand's Great Walks is the guide no keen adventurer can do without! Revised and updated to include the Paparoa Track and Pike29 Memorial Track. ...Show more
$12.99
AUD
Category: travel | Series: Map Ser.
Lonely Planet: The world's number one travel guide publisher* Durable and waterproof, with a handy slipcase and an easy-fold format, Lonely Planet's Victoria Planning Map helps you explore with ease. Get more from your map and your trip with images and information about top attractions, itinerary sugges tions, a transport guide, planning information, themed lists and practical travel tips. With this easy-to-use, full-colour map in your back pocket, you can truly get to the heart of Victoria - so begin your journey now Durable and waterproof Easy-fold format and convenient size Handy slipcase Full colour and easy to use Before-you-go info Beautiful imagery Tailored itineraries Can't-miss regional highlights Detailed town index Transport planner Themed lists Covers: Victoria Looking for more extensive coverage? Check out Lonely Planet's Melbourne & Victoria, our most comprehensive guidebook to the state, covering the top sights and most authentic offbeat experiences. Or check out Lonely Planet's Best of Australia, a concise visual guide highlighting the top experiences across the country. About Lonely Planet: Lonely Planet is a leading travel media company and the world's number one travel guidebook brand, providing both inspiring and trustworthy information for every kind of traveller since 1973. Over the past four decades, we've printed over 145 million guidebooks and grown a dedicated, passionate global community of travellers. You'll also find our content online, and in mobile apps, video, 14 languages, nine international magazines, armchair and lifestyle books, ebooks, and more. 'Lonely Planet guides are, quite simply, like no other.' - New York Times 'Lonely Planet. It's on everyone's bookshelves; it's in every traveller's hands. It's on mobile phones. It's on the Internet. It's everywhere, and it's telling entire generations of people how to travel the world.' - Fairfax Media (Australia) *Source: Nielsen BookScan: Australia, UK, USA, 5/2016-4/2017 ...Show more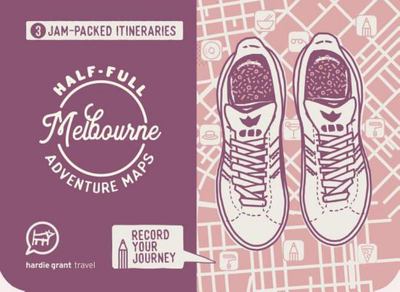 $12.99
AUD
Category: travel | Series: Half-Full Adventure Maps Ser.
The Half-Full Adventure Map is a new breed of map. Part map, part local guide, Half-full Adventure Map: Melbourne has been designed for explorers with an open mindset and a generous spirit. One side of the map features suggested itineraries that reveal hidden treasures and key attractions, giving you a real taste for the city even if you have limited time. There are also links to online features, including a playlist filled with local music and additional commentary. The other side is what makes this map 'half-full' - space has been left for you to record your own travel experiences and ideas. Your new personalized guide can then be passed on to a friend, or you could keep it as a reminder of your travels. The A2-sized map and guide comes in a specially designed box, and can easily be folded down and put in your bag or backpack. ...Show more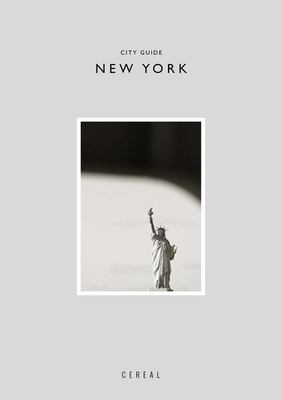 $35.00
AUD
Category: photography
From the leading independent travel and style magazine Cereal comes Cereal City Guide: New York a portrait of the Empire City offering a finely curated edit on what to see and do for discerning travelers and locals alike. Rich Stapleton and Rosa Park, Cereal's founders, travel extensively for the magaz ine and were inspired to create a series of city guides that highlighted their favorite places to visit. Now, after building a loyal readership that counts on their unique, considered advice, they are relaunching the books with a fresh design and new content. Rather than a comprehensive directory of all there is to see and do, these Cereal City Guides offer instead an edit of points of interest and venues that reflect Cereal's values in both quality and aesthetic sensibility. Rich and Rosa have personally visited hundreds of venues in New York, distilling their preferred locales down to their firm favorites. From the inspired boutiques which reflect that distinctive New Yorker eclecticism to the local restaurants that feed them, these are the finds that that will offer a more personal take on the city. Meticulously researched and illustrated with original photography, each guide includes: photo essays of striking images of the city an illustrated neighborhood map interviews and essays from celebrated locals, such as chef Camille Becerra, shop owner Kai Avent-deLeon, and more lists of essential architectural points of interest, museums, galleries, day trips outside the city, and unique goods to buy an itinerary for an ideal day in New York Cereal City Guide: New York is a design-focused portrait of an iconic city, offering a distinctive look at the best museums, galleries, restaurants, and shops. Also, check out Cereal City Guide: London and Cereal City Guide: Paris. ...Show more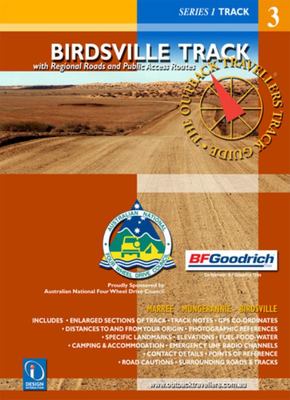 $21.99
AUD
Category: travel | Series: The\Outback Travellers Track Guide
Driving the Birdsville Track is still one of the outback's great adventures. The track began during the 1880's as the main stock route from Birdsville to Marree. It is a gateway to the Corner Country, accessed via the Simpson Desert and renowned for the Diamantina river, Birdsville Hotel and the ever po pular Birdsville Races. The diversity of country between the four deserts, Tirari, Strzelecki, Sturt Stony and Simpson contrasted by the wetlands of Clayton river, Cooper creek and Mungerannie, the hills at Mungerannie Gap and the steaming hot bores, highlights the imagination of life during the early pioneering days. ...Show more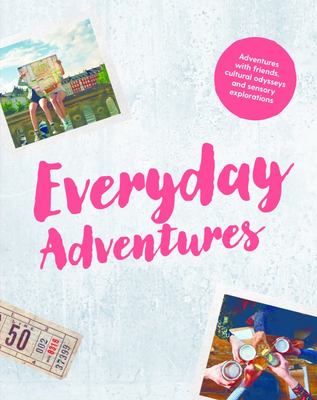 $24.99
AUD
Category: travel | Series: Lonely Planet Ser.
Weave a little wonder into daily life with these fun and challenging activities - and experience your local area in a whole new way. Invite friends on a social adventure, follow your senses somewhere new and embark on a cultural odyssey. Lonely Planet shows you how to embrace the traveller spirit and di scover a new side to where you live. For each activity, we tell you what to bring and provide simple, easy-to-follow instructions to make it a success. You'll also find a case study from someone who's completed it, as well as surprising facts and anecdotes that shed light on the history and science behind each quirky quest. Everyday Adventuresis comprised of five themed chapters: 1. Follow Your Senses: Urban Foraging Fly By Night Macro Lensing Food Quest Memory Lane 2. Social Adventures: Pint-Sized Tour Guide Social Media Slave Life Swap Bartender's Knock Trip Poker 3. Challenge Yourself: Airport Tourism Plastic Challenge Lend a Hand Locally Long-Haul Hitchhiking End of the Line 4. Cultural Odysseys: Street Art Movie Magic Urban Zen Vintage Travel Literary Jaunt 5. Roll the Dice: Hands of Fate Traveller's Roulette Life-Sized Monopoly Human Chess Out of Office About Lonely Planet: Lonely Planet is a leading travel media company and the world's number one travel guidebook brand, providing both inspiring and trustworthy information for every kind of traveller since 1973. Over the past four decades, we've printed over 145 million guidebooks and grown a dedicated, passionate global community of travellers. You'll also find our content online, on mobile, video and in 14 languages, 12 international magazines, armchair and lifestyle books, ebooks, and more. ...Show more
$19.99
AUD
Category: travel
Explore New York with this handy, pocket-sized, authoritative guide, packed with Insider Tips. Discover boutique hotels, authentic restaurants, the city's trendiest places, and get tips on shopping and what to do on a limited budget. There are plenty of ideas for travel with kids, and a summary of all t he festivals and events that take place in the Big Apple. Let Marco Polo show you all this vibrant city has to offer... New York City is the symbol of the American dream and the only way to understand this massive, adrenaline-fuelled, influential and nerve-racking metropolis is to come and see it for yourself. Wake up to the sounds of the city that never sleeps. The New York feeling is something you have to experience up close. Feel the city's creative energy, the excitement, the very special atmosphere created by its skyscrapers and street canyons. This is New York! Your Marco Polo New York Pocket Guide includes:Insider Tips - we show you the hidden gems and little known secrets that offer a real insight into New York City. From where to find the best street vendors, where to see the most impressive open air concerts to experiencing New York in the 19th century, the Insider Tips give you a personal insight into this amazing city. Best of - find the best things to do for free, the best `only in' New York experiences, the best things to do if it rains and the best places to relax and spoil yourself.Sightseeing - all of the top sights are organised by areas of the city so you can easily plan your day.Discovery Tours - 5 specially tailored walking tours that will get you to the heart of New York. Explore New York's glorious architecture, museums, historic landmarks and shopper's paradise from a genuine diner breakfast to the tallest skyscrapers to the most authentic club.New York in full-colour - Marco Polo Pocket Guide New York includes full-colour photos throughout the guide bringing the city to life offering you a real taste of what you can see and enjoy on your trip.Touring App - new for 2018, you can download any of the Discovery Tours to your smartphone, complete with the detailed route description and map exactly as featured in the guide, free of charge. The maps can be used offline too, so no roaming charges. The perfect navigational tool with distance indicators and landmarks highlighting the correct direction to travel in as well as GPS coordinates along the way. Enjoy stress-free sightseeing and never get lost again! Street Atlas and pull-out map - we've included a detailed street atlas and a handy, pull-out map so you can pop the guide in your bag for a full-on sightseeing day or head out with just the map to enjoy your Discovery Tour.Trust Marco Polo Pocket Guide New York to show you around this fabulous city. The comprehensive coverage and unique insights will ensure you experience everything New York has to offer and more. The special tips, personal insights and unusual experiences will help you make the most of your trip - just arrive and enjoy! ...Show more
$19.99
AUD
Category: travel
Explore Barcelona with this handy, pocket-sized, authoritative guide, packed with Insider Tips. Discover boutique hotels, authentic restaurants, the city's trendiest places, and get tips on shopping and what to do on a limited budget. There are plenty of ideas for travel with kids, and a summary of all the festivals and events that take place. Let Marco Polo show you all this wonderful city has to offer... Spread out between the Mediterranean and gently rising mountains, modern buildings rise above the alleyways of the Gothic old city. Experience the Mediterranean lifestyle in countless bars, cafes and restaurants in this lively Catalan metropolis that is both ultra-modern and steeped in tradition and history. If you're interested in art and culture, you will be amazed by the city's extraordinarily well-preserved Gothic quarter, its fine examples of Catalan Art Nouveau (Modernisme), and its award-winning post-modern structures. This is Barcelona! Your Marco Polo Barcelona Pocket Guide includes:Insider Tips - we show you the hidden gems and little known secrets that offer a real insight into the city. Savour delicious Catalan tapas, wander winding paths between bridges and fountains or discover architectural jewels and breath-taking art collections.Best of - find the best things to do for free, the best `only in' Barcelona experiences, the best things to do if it rains and the best places to relax and spoil yourself.Sightseeing - all of the top sights are organised by areas of the city so you can easily plan your day.Discovery Tours - 4 specially tailored walking tours that will get you to the heart of Barcelona. See the impressive basilica, explore the labyrinth of Gothic streets, enjoy glorious views or soak up the sunshine with a perfect paella. You can experience Barcelona's unique charm, green oases, hand-picked restaurants and the best local activities with these personal tours.Barcelona in full-colour - Marco Polo Pocket Guide Barcelona includes full-colour photos throughout the guide bringing the city to life offering you a real taste of what you can see and enjoy on your trip.Touring App - new for 2018, you can download any of the Discovery Tours to your smartphone, complete with the detailed route description and map exactly as featured in the guide, free of charge. The maps can be used offline too, so no roaming charges. The perfect navigational tool with distance indicators and landmarks highlighting the correct direction to travel in as well as GPS coordinates along the way. Enjoy stress-free sightseeing and never get lost again! Street Atlas and pull-out map - we've included a detailed street atlas and a handy, pull-out map so you can pop the guide in your bag for a full-on sightseeing day or head out with just the map to enjoy your Discovery Tour.Useful Spanish phrases - the essential words and phrases are included to help you get by.Trust Marco Polo Pocket Guide Barcelona to show you around this fabulous city. The comprehensive coverage and unique insights will ensure you experience everything Barcelona has to offer and more. The special tips, personal insights and unusual experiences will help you make the most of your trip - just arrive and enjoy! ...Show more
$19.99
AUD
Category: travel
Explore Amsterdam with this handy, pocket-sized, authoritative guide, packed with Insider Tips. Discover boutique hotels, authentic restaurants, the city's trendiest places, and get tips on shopping and what to do on a limited budget. There are plenty of ideas for travel with kids, and a summary of all the festivals and events that take place in the Dutch capital. Let Marco Polo show you all this wonderful city has to offer... Narrow houses leaning against each other at slightly crooked angles, a cyclist crossing a bridge on a squeaky bicycle, people sitting out in the sun in front of the corner cafe and enjoying their coffees; in the distance the jolt of a tram lumbering along the Leidseplein. This is Amsterdam! Your Marco Polo Amsterdam Pocket Guide includes:Insider Tips - we show you the hidden gems and little known secrets that offer a real insight into the city from unusual nights on a houseboat, buildings with breath-taking views and coffee at a 17th century hangout.Best of - find the best things to do for free, the best `only in' Amsterdam experiences, the best things to do if it rains and the best places to relax and spoil yourself.Sightseeing - all of the top sights are organised by areas of the city so you can easily plan your day.Discovery Tours - 4 specially tailored tours that will get you to the heart of Amsterdam either on foot or by bike. The tours are themed - so if food is your thing then bring a big appetite for a wonderful wander from one fine food shop to another, or strap on your boots for a full day tour exploring Amsterdam's glorious architecture, canals and shopper's paradise.Amsterdam in full-colour - Marco Polo Pocket Guide Amsterdam includes full-colour photos throughout the guide bringing the city to life offering you a real taste of what you can see and enjoy on your trip.Touring App - new for 2018, you can download any of the Discovery Tours to your smartphone, complete with the detailed route description and map exactly as featured in the guide, free of charge. The maps can be used offline too, so no roaming charges. The perfect navigational tool with distance indicators and landmarks highlighting the correct direction to travel in as well as GPS coordinates along the way. Enjoy stress-free sightseeing and never get lost again! Street Atlas and pull-out map - we've included a detailed street atlas and a handy, pull-out map so you can pop the guide in your bag for a full-on sightseeing day or head out with just the map to enjoy your Discovery Tour.Useful Dutch phrases - the essential words and phrases are included to help you get by.Trust Marco Polo Pocket Guide Amsterdam to show you around this fabulous city. The comprehensive coverage and unique insights will ensure you experience everything Amsterdam has to offer and more. The special tips, personal insights and unusual experiences will help you make the most of your trip - just arrive and enjoy! ...Show more
$19.99
AUD
Category: travel
Explore Cambodia with this handy, pocket-sized, authoritative guide, packed with Insider Tips. Discover boutique hotels, authentic restaurants, the country's trendiest places, and get tips on shopping and what to do on a limited budget. There are plenty of ideas for travel with kids, and a summary of al l the festivals and events that take place in Cambodia. Let Marco Polo show you all this incredible country has to offer... Cambodia is where the sugar palms grow. The distinctive, tousled tops of the palm trees and rice fields cover the surface of the country as far as the eye can see. Water buffalo wallow in the mud just as they did one thousand years ago. Cambodia is still this way today with the modern city of Phnom Penh standing in stark contrast to this traditional country. This is Cambodia! Your Marco Polo Cambodia Pocket Guide includes:Insider Tips - we show you the hidden gems and little known secrets that offer a real insight into Cambodia. Where to see a breath-taking sunset, go elephant trekking through the dense jungle and stay on a deserted island.Best of - find the best things to do for free, the best `only in' Cambodia experiences, the best things to do if it rains and the best places to relax and spoil yourself.Sightseeing - all of the top sights are organised by areas of the country so you can easily plan your trip.Discovery Tours - specially tailored tours that will get you to the heart of Cambodia. Here are inspirational itineraries that will help you explore Cambodia's thriving modern cities and traditional countryside.Cambodia in full-colour - Marco Polo Pocket Guide Cambodia includes full-colour photos throughout the guide bringing the country to life offering you a real taste of what you can see and enjoy on your trip.Touring App - new for 2018, you can download any of the Discovery Tours to your smartphone, complete with the detailed route description and map exactly as featured in the guide, free of charge. The maps can be used offline too, so no roaming charges. The perfect navigational tool with distance indicators and landmarks highlighting the correct direction to travel in as well as GPS coordinates along the way. Enjoy stress-free sightseeing and never get lost again! Road Atlas and pull-out map - we've included a detailed road atlas and a handy, pull-out map so you can pop the guide in your bag for a full-on sightseeing day or head out with just the map to enjoy your Discovery Tour.Useful Khmer phrases - the essential words and phrases are included to help you get by.Trust Marco Polo Pocket Guide Cambodia to show you around this wonderful country. The comprehensive coverage and unique insights will ensure you experience everything Cambodia has to offer and more. The special tips, personal insights and unusual experiences will help you make the most of your trip - just arrive and enjoy. ...Show more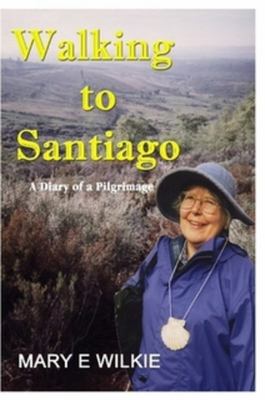 $18.00
AUD
Category: travel
Every year thousands of people walk across Spain to the shrine of St James in Santiago de Compostela. This pilgrimage began in the Middle Ages and has continued for more than a thousand years. People of all ages from many countries walk or cycle this pilgrim route. Like many modern pilgrims the author w as neither young nor athletic when she set out from Paris with Santiago as her goal. She was not sure if she could go the distance. This diary recounts the 1800 kilometre journey day by day. ...Show more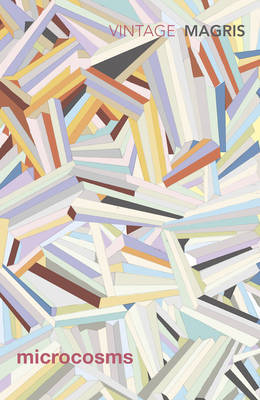 $22.99
AUD
Category: travel
In the tiny borderlands of Istria and Italy, from the forests of Monte Nevoso, to the hidden valleys of the Tyrol, to a Trieste cafe, Microcosms pieces together a mosaic of stories - comic, tragic, picaresque, nostalgic - from life's minor characters. Their worlds might be small, but they are far from m inimalist: in them flashes the great, the meaningful, the unrepeatable significance of every existence. ...Show more