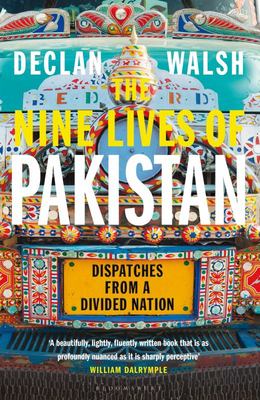 $29.99
AUD
Category: biography & memoir
The demise of Pakistan o a country with a reputation for volatility, brutality and radical Islam o is regularly predicted. But things rarely turn out as expected, as renowned journalist Declan Walsh knows well. Over a decade covering the country, his travels took him from the raucous port of Karachi to the gilded salons of Lahore to the lawless frontier of Waziristan, encountering Pakistanis whose lives offer a compelling portrait of this land of contradictions. He meets a crusading lawyer who risks her life to fight for society's most marginalised, taking on everyone including the powerful military establishment; an imperious chieftain spouting poetry at his desert fort; a roguish politician waging a mini-war against the Taliban; and a charismatic business tycoon who moves into politics and seems to be riding high o till he takes up the wrong cause. Lastly, Walsh meets a spy whose orders once involved following him, and who might finally be able to answer the question that haunts him- why the Pakistanis suddenly expelled him from their country. Intimate and complex, unravelling the many mysteries of state and religion, this formidable book offers an arresting account of life in a country that, often as not, seems to be at war with itself. ...Show more
$19.99
AUD
Category: biography & memoir | Reading Level: very good
Travels with Epicurus- A Journey to a Greek Island in Search of an Authentic Old Ageis a humorous, uplifting meditation on finding the pleasures of old age, by the New York Times bestselling co-author of Plato and a Platypus Walk into a Bar. When philosopher, jokester and septuagenarian Daniel Klein goe s to the dentist for a regular check-up, he is informed that he needs a section of his lower teeth removed and replaced with either a denture plate or implants. The implants would require frequent trips to the dentist over the course of a year, a lot of money and a lot of pain. The denture plate on the other hand would leave Klein with the unmistakable clunky smile of an old man. Though Klein initially opts for the implants he soon questions his decision. Is it better to a spend a precious year trying to extend the prime of his life, or to live an authentic old age, toothless grin and all? Klein decided the answer lay in a place where people seemed to know the secret to a long, happy and healthy life - Greece. He travels there with a library of his favourite philosophers and observes other septuagenarians and octogenarians, and contemplates his own life, particularly seeking out wisdom from renowned hedonist Epicurus. From that journey comes a sincere and humorous book on ageing and an Epicurean way of living. ...Show more
$49.99
AUD
Category: biography & memoir | Series: Leonard Cohen, Untold Stories Ser.
The extraordinary life of one of the world's greatest music and literary icons, in the words of those who knew him best. Poet, novelist, singer-songwriter, artist, prophet, icon--there has never been a figure like Leonard Cohen. He was a true giant in contemporary western culture, entertaining and insp iring people everywhere with his work. From his groundbreaking and bestselling novels, The Favourite Game and Beautiful Losers, to timeless songs such as "Suzanne," "Dance Me to the End of Love," and "Hallelujah," Cohen is a cherished artist. His death in 2016 was felt around the world by the many fans and followers who would miss his warmth, humour, intellect, and piercing insights. Leonard Cohen, Untold Stories chronicles the full breadth of his extraordinary life. The first of three volumes--The Early Years--follows him from his boyhood in Montreal to university, and his burgeoning literary career to the world of music, culminating with his first international tour in 1970. Through the voices of those who knew him best--family and friends, colleagues and contemporaries, rivals, business partners, and his many lovers--the book probes deeply into both Cohen's public and private life. It also paints a portrait of an era, the social, cultural, and political revolutions that shook the 1960s. In this revealing and entertaining first volume, bestselling author and biographer Michael Posner draws on hundreds of interviews to reach beyond the Cohen of myth and reveal the unique, complex, and compelling figure of the real man. ...Show more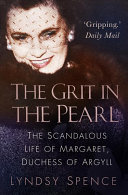 $24.99
AUD
Category: biography & memoir
Margaret, Duchess of Argyll (1912-1993) was an international celebrity in her youth, adored by millions. But in 1963, the year of the Profumo Affair, the 11th Duke of Argyll shocked the country when he alleged that his adulterous wife had slept with more than 80 men behind his back. He produced a set of sexually explicit Polaroids and explosive love letters. The duke won a divorce, but this had a dramatic effect on Margaret's life. On the verge of financial destitution, she was abandoned by most of her friends prior to her death in a nursing home in 1993. Lyndsy Spence tells a tragic story of the life of this fascinatingly complex woman, and shows how she fell victim to a cruel husband, harsh social mores, and an unforgiving class.This meticulously researched and powerful biography acts as a potent lens on fame, privacy, the media, sex, power, and relationships between classes. ...Show more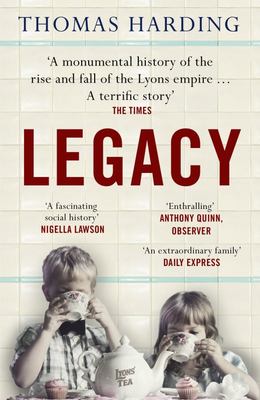 $22.99
AUD
Category: biography & memoir
'I was riveted- this is a fascinating social history.' NIGELLA LAWSON 'Five stars... history on a scale at once intimate and grand.'TELEGRAPH A panoramic new history of modern Britain, as told through the story of one extraordinary family, and one groundbreaking company. This is the story of how a fa mily transformed themselves from penniless immigrants to build a company that revolutionised the way we eat, drink and are entertained. For over a century, Lyons was everywhere. Its restaurants and corner houses were on every high street, its coffee and tea in every cup, its products in every home. But it was a victory that was not easily won. Told through the lives of five generations, Legacyis at once intimate and sweeping, charting the tragedy and unimaginable success of one of Britain's most famous families. It is also an illuminating new exploration of Britain and its place in the world, from the bestselling author ofHanns and Rudolfand The House by the Lake. 'A magnificent book... endlessly fascinating.'JEWISH CHRONICLE 'How the Lyons company took on the world... a satisfying slab of dynastic history.' GUARDIAN, 'Book of the Day' 'Written with love and imagination... a masterclass in historical empathy.'TLS 'An affectionate and colourful family history.'FINANCIAL TIMES 'Rich... Fascinating... Harding is to be congratulated on this panoramic history.'EVENING STANDARD 'Endlessly fascinating and hard to put down... this is a tour de force.'JULIA NEUBERGER ...Show more
$22.99
AUD
Category: biography & memoir
One sunny spring morning in the seventies, an unlikely Englishman set out on a pilgrimage that would take him across Japan's entire length. Traveling only along small back roads, Alan Booth travelled on foot from Soya, the country's northernmost tip, to Sata in the extreme south, traversing three island s and some 2,000 miles of rural Japan. His mission- 'to come to grips with the business of living here,' after having spent most of his adult life in Tokyo. The Roads to Sata is a wry, witty, inimitable account of that prodigious trek, vividly revealing the reality of life off-the-tourist-track in Japan. Journeying alongside Booth, we encounter the wide variety of people who inhabit the Japanese countryside - from fishermen and soldiers, to bar hostesses and school teachers, to hermits, drunks and the homeless. We glimpse vast stretches of coastline and rambling townscapes, mountains and motorways; watch baseball games and sunrises; sample trout and Kilamanjaro beer, hear folklore, poems, and smutty jokes. Throughout, we enjoy the wit and insight of a uniquely perceptive guide, and more importantly, discover a new face of an often-misunderstood nation. ...Show more
$34.99
AUD
Category: biography & memoir
Two incredible women, an unlikely friendship, and a united mission to save the lives of some of the world's poorest and most desperate women. Healing Lives reveals the untold tale of Mamitu Gashe, Dr Catherine Hamlin's protégée, and the inspiring almost 60-year friendship between the two women.In 1962, three years after Drs Catherine and Reg Hamlin arrived in Ethiopia, an illiterate peasant girl sought their aid. Mamitu Gashe was close to death and horrifically injured during childbirth after an arranged marriage - at the age of just fourteen to a man she'd never met - in a remote mountain village.The Hamlins' Addis Ababa Fistula Hospital saved her and, in return, Mamitu dedicated her life to Catherine's mission. Under the iconic doctor's guidance, Mamitu went from mopping floors and comforting her fellow patients, to becoming one of the most acclaimed fistula surgeons in the world, despite never having had a day's schooling.This is the moving story of the friendship that saved the lives of over 60,000 of the poorest women on earth.   ...Show more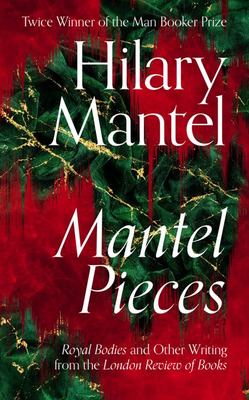 $39.99
AUD
Category: biography & memoir
In 1987, when Hilary Mantel was first published in the London Review of Books, she wrote to the editor, Karl Miller, 'I have no critical training whatsoever, so I am forced to be more brisk and breezy than scholarly.' This collection of twenty reviews, essays and pieces of memoir from the next three dec ades, tells the story of what happened next. Her subjects range far and wide: Robespierre and Danton, the Hite report, Saudi Arabia where she lived for four years in the 1980s, the Bulger case, John Osborne, the Virgin Mary as well as the pop icon Madonna, a brilliant examination of Helen Duncan, Britain's last witch. There are essays about Jane Boleyn, Charles Brandon, Christopher Marlowe and Margaret Pole, which display the astonishing insight into the Tudor mind we are familiar with from the bestselling Wolf Hall Trilogy. Her famous lecture, 'Royal Bodies', which caused a media frenzy, explores the place of royal women in society and our imagination. Here too are some of her LRB diaries, including her first meeting with her stepfather and a confrontation with a circus strongman. Constantly illuminating, always penetrating and often very funny, interleaved with letters and other ephemera gathered from the archive, Mantel Pieces is an irresistible selection from one of our greatest living writers. ...Show more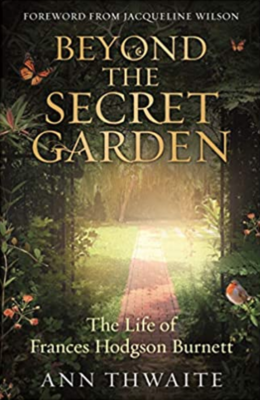 $24.99
AUD
Category: biography & memoir
Most people have heard of Little Lord Fauntleroy, and of The Secret Garden. Yet few people realize that the same woman wrote both books, 25 years apart, and was considered, along with Henry James, one of the leading writers in America on the strength of the adult novels which made her name in the 1870s and 1880s. Frances Hodgson Burnett's favourite theme in fiction was the reversal of fortune, and she herself knew extremes of poverty and wealth. Born in Manchester in 1849, she emigrated with her family to Tennessee at the close of the Civil War. On the surface, her life was extremely successful. She played the roles of Famous Writer and Fairy Godmother with enthusiasm, but happiness eluded her. She was always waiting for the party, but it went on in other rooms. ...Show more
$19.99
AUD
Category: biography & memoir | Series: Living Autobiography Ser.
Taking George Orwell's famous essay, 'Why I Write', as a jumping-off point, Deborah Levy offers her own indispensable reflections of the writing life. With wit, clarity and calm brilliance, she considers how the writer must stake claim to that contested territory and shape it to her need. Itis a work of dazzling insight and deep psychological succour, from one of our most vital contemporary writers. This first volume of the trilogy focuses on the writer as a young woman - the confusion and turbulence of youth, and the uncertainties of carving an identity as a writer. The second volume, The Cost of Living, speaks to the challenges of middle age as a writer and a woman - motherhood, separation, bereavement. ...Show more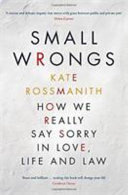 $32.99
AUD
Category: biography & memoir
 Kate Rossmanith studied people for a living, and thought she understood human nature well. But in the wake of her daughter's birth, the vulnerability and intensity of parenthood took her completely by surprise. Faced with a debilitating insomnia, she spent hours awake reflecting on her own upbringing a nd the unwelcome role remorse can play in even the most devoted parents' lives.    Increasingly fascinated with the concept of remorse, she was drawn to the criminal courts, observing case after case. She talked to criminals, lawyers and judges alike, trying to answer the fundamental question: how can you know whether a person is ever truly sorry?   But it soon became clear the project was creating seismic shifts in Kate's own life. The more she learnt, the more she saw how her relationship with her father, who for many years was a distant and often angry man, was steeped in remorse. The more she learnt, the more she saw the faultlines in her marriage, widening under the strains of parenthood. And ever present was a family history sketched across war-torn Europe, with the seeds of heartache taking root in Australia. ...Show more
$22.99
AUD
Category: biography & memoir
NOMINATED FOR SIX OSCARS, INCLUDING BEST PICTURE, SUPPORTING ACTOR AND SUPPORTING ACTRESS . . . Aged just five, Saroo Brierley lost all contact with his family in India, after waiting at a train station for his brother who never returned. Discover the inspiring, true story behind the film, Lion. This is the heart breaking and original tale of the lost little boy who found his way home twenty-five years later. ----------------------------------- As a five-year old in India, I got lost on a train. Twenty-five years later, I crossed the world to find my way back home. Five-year-old Saroo lived in a poor village in India, in a one-room hut with his mother and three siblings... until the day he boarded a train alone and got lost. For twenty-five years. This is the story of what happened to Saroo in those twenty-five years. How he ended up on the streets of Calcutta. And survived. How he then ended up in Tasmania, living the life of an upper-middle-class Aussie. And how, at thirty years old, with some dogged determination, a heap of good luck and the power of Google Earth, he found his way back home. Lion is a triumphant true story of survival against all odds and a shining example of the extraordinary feats we can achieve when hope endures. ----------------------------------- 'Amazing stuff' The New York Post 'So incredible that sometimes it reads like a work of fiction' Winnipeg Free Press (Canada) 'A remarkable story' Sydney Morning Herald Review 'I literally could not put this book down. Saroo's return journey will leave you weeping with joy and the strength of the human spirit' Manly Daily (Australia) 'We urge you to step behind the headlines and have a read of this absorbing account...With clear recollections and good old-fashioned storytelling, Saroo...recalls the fear of being lost and the anguish of separation' Weekly Review (Australia) ...Show more