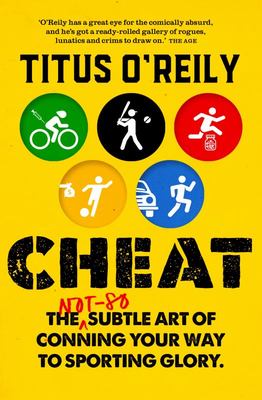 $34.99
AUD
Category: sport hobbies humour
Where there's sport, there's cheating. No sport is immune; athletics, swimming, rugby, American Football, cricket, baseball, badminton, motorsports, tennis and curling. Yes, even that sport on the ice with brooms. Almost as soon as humans started playing sport competitively, they started to cheat. They cheated to win, for the fame, for the money and sometimes for reasons that are hard to understand. From the fiendishly clever to the outright hare brained, the borderline to the blatant, Titus O'Reily takes us through the many and varied ways athletes and countries have tried to cheat over the years. There's the winner of the New York marathon who was driven in a car part of the way, the male basketballer whose drug test revealed he was pregnant, the Tour De France where many of the riders took the train, the Spanish Paralympic basketball team who faked being intellectually disabled to win gold at the 2000 Paralympics. As well as sharing an alarming amount of tales involving swapping bodily fluids, Titus takes you through doping, illegal equipment, bribes, playing dirty, faking injuries, wearing disguises, dodgy referees, ball tampering, eye gouging, itching powder, licking an opponent to distract them and sending a dwarf out to bat to shrink the strike zone. Just as sport has become more sophisticated, so has cheating in sport, from state backed doping programs to tiny motors in Tour De France bikes. What does this say about us, that we cheat with such regularity and creativity? Will technology help stop cheating or will it only make it worse? Mastering the not-so-subtle art of cheating is a hilarious trip through the history of cheating in sport, and a handy how-to-guide for the professional athlete in your family.       ...Show more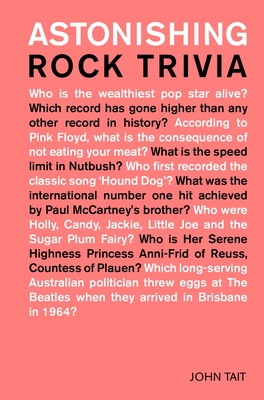 $24.95
AUD
Category: sport hobbies humour
Did you know that in 2013 Chubby Checker sued Hewlett-Packard over a 99c app called the Chubby Checker which allowed user's to enter a man's shoe size to estimate the size of his penis. He claimed that the product would cause damage to his goodwill tarnishing his image. Trivia with a twist. Did you know that Charles Manson co-wrote a song for the Beach Boys Plus hundreds of questions to tease and expand the mind ...Show more
$59.99
AUD
Category: sport hobbies humour
Watched by millions of people around Australia and worldwide every year on Boxing Day, the Sydney Hobart Yacht Race is a 628 nautical mile passage into the depths of the southern ocean's Roaring Forties that pushes sailors, organisers and at times, search and rescue personnel, to the limit of their ment al and physical endurance. Over 520 beautifully illustrated pages, photographer and storyteller Andrew Wilson, with journalist and Race Media Director Di Pearson, present Blue Water Classics: Portraits of the Sydney Hobart Yacht Race – a compelling and intimate publication with over 40 personal accounts from owners, crew, officials and search and rescue personnel that are filled with all the drama and emotion tied into attempting to win 'the Hobart'. ...Show more
$16.99
AUD
Category: sport hobbies humour
The essential companion for the dedicated Mah Jong player who also enjoys the social aspect of the game.   Since the arrival on the market of Patricia Thompson and Betty Maloney's two previous books, The Game of Mah Jong Illustrated and Improve Your Mah Jong, a wide range of hands from many parts of the world has been sent to them. In this player's companion, the authors have put together a cross-filed reference guide where more than 120 hands, illustrated in color, can be quickly identified by following the flip-top headings on each page. A full synopsis of each hand is included. The extra hands give an international flavor to the book, adding new interest and challenges. ...Show more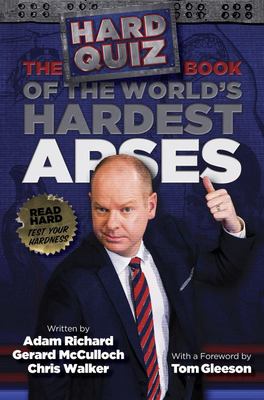 Hard Quiz Book of the Worlds Hardest Arses
by Gerard McCulloch; Adam Richard; Chris Walker; Foreword by Tom Gleeson (As told to)
$32.99
AUD
Category: sport hobbies humour
Every week, more than a million viewers tune in to the ABC's HARD QUIZ to watch Tom Gleeson grill four regular Australians about their expert subjects. Tom's crack team of writers and researchers at HARD QUIZ Headquarters, or HQHQ, have written thousands of brain-busting questions on hundreds of curly t opics to test the mettle of those battling it out for the BIG BRASS MUG. Now it's your turn! HQHQ brings you the definitive list of the top twenty hardest a**es and the incredible stories behind them. Who is harder, Winston Churchill or Dolly Parton? How did the theft of a 12-year-old's bike change the course of sporting history? What was the Oxygen Catastrophe, and how did it nearly destroy all life on earth? Why is the Southern Cassowary Australia's resident murder bird? Become the star of the show as you challenge your friends, family and fiercest enemies to a HARD OFF with actual HARD QUIZ questions. It's time to read ... HARD! ...Show more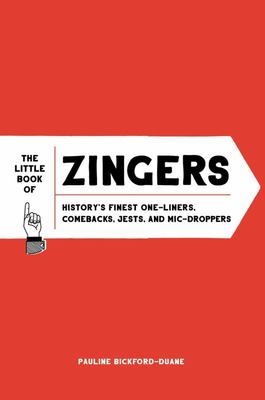 $16.99
AUD
Category: sport hobbies humour
You know Mark Twain, creator of the long-beloved characters Huck Finn and Tom Sawyer, but have you heard what he said about Jane Austen? The Little Book of Zingers will feature the greatest comebacks and one-liners of all time, uttered by the iconic men and women we know and love (or love to hate) Every generation sees its fair share of geniuses: men and women who possess boundless intellect and are capable of incredible insight. S ren Kierkegaard was such a man. Widely considered the father of existential philosophy, Kierkegaard uttered such profundities as: "If I am capable of grasping God objectively, I do not believe, but precisely because I cannot do this I must believe." But on one truly momentous occasion, Kierkegaard made one confident and succinct statement that shook the earth: "My opponent is a glob of snot." Kierkegaard spoke of Hans Martensen, an academic with whom he'd had a fair share of disagreements. The two often went toe-to-toe in scholarly debate, but with this dynamite zinger, Kierkegaard ended all further discussion. After all, who expects to be called a glob of snot? There's no coming back from that. The Little Book of Zingers will explore the rich depths of crushingly hilarious salt-in-the-wound one-liners you've never heard that'll make you gasp at their audacity. From the Age of Enlightenment to the Roaring Twenties to the boogie-down seventies, The Little Book of Zingers will take readers on a journey through some of history's greatest burns, spoken by the men and women who shaped the world. ...Show more
$34.99
AUD
Category: sport hobbies humour | Series: G - Reference,Information and Interdisciplinary Subjects Ser.
The best-selling guide to today's most exciting players, completely revised and updated       Here are the best of the best, from legends like Messi and Ronaldo to dynamic newcomers like Kylian Mbappé. This lively book features short biographies of some twenty-eight stars in all--goalkeepers, defend ers, midfielders, and attackers. With the same action-packed photos and colorful graphics that fans have come to expect from the critically acclaimed World Soccer Legends series, Stars of World Soccer shows what it takes to be at the top of the game. ...Show more
$34.99
AUD
Category: sport hobbies humour | Series: G - Reference,Information and Interdisciplinary Subjects Ser.
A head-to-head comparison of the two greatest soccer stars of their generation--and perhaps of all time One, diminutive and reserved; the other, tall and theatrical. One with six Ballons d'Or, and the other with five. There's no doubt about it--Lionel Messi and Cristiano Ronaldo are the best. But which one is better? This lively book compares every aspect of the legendary rivals' careers, to let the reader decide. It compares their stats, including their ten years of matchups in El Clásico, their club trophies, and their individual awards and milestones. It analyzes their style of play, and how it has evolved throughout their careers. And, it looks at how their rivalry continues off the field, in terms of endorsement deals, social media followings, and philanthropic endeavors. Packed with color photos of the champions in action, Messi and Ronaldo will spark discussion among both players' partisans. ...Show more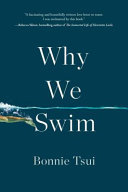 $35.00
AUD
Category: sport hobbies humour
'An enthusiastic and thoughtful work' The New York Times 'A beautifully written love letter to water and a fascinating story. I was enchanted.' Rebecca Skloot, bestselling author of The Immortal Life of Henrietta Lacks Take a dive into the deep with writer and swimmer Bonnie Tsui and discover what it i s about water that seduces us, heals us and brings us together. Our evolutionary ancestors swam for survival. Now we swim in freezing Arctic waters, wide channels, and piranha-infested rivers just because they are there. Swimming is an introspective and quiet sport in a chaotic age. It is therapeutic for those who are injured and it is one route to that elusive, ecstatic state of Flow. Propelled by stories of polar swim champions, a Baghdad swim club, Olympian athletes, modern-day samurai swimmers and even an Icelandic fisherman who improbably survived a six-hour swim in the wintry Atlantic, Why We Swim takes us around the globe in a remarkable, all-encompassing account of the world of swimming. 'A truly great story. I love this book.' Christopher McDougall, bestselling author of Born to Run ...Show more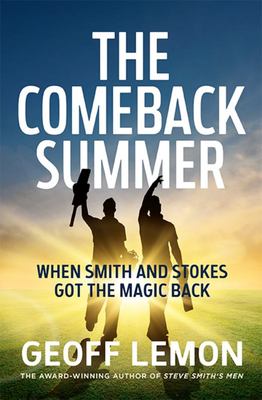 $29.99
AUD
Category: sport hobbies humour
The captain of the Australian team: a batsman on the way to being the greatest of all time. The star of the English team: an all-rounder breaking record after record. Both disgraced in enormous scandals of very different kinds. Both attempting a path to personal and professional redemption, through Worl d Cups and county games. All culminating in a meeting of cricket's biggest rivalry: the 2019 Ashes. It was always going to be a summer to remember. The follow-up to Geoff Lemon's multi-award-winning Steve Smith's Men is an equally insightful, thrilling and sharply observed take on the cricketing world, with a cast of finely drawn characters, vivid backdrops and a series of incredible events, both on and off the field. ...Show more
$39.95
AUD
Category: sport hobbies humour | Series: Renniks Australian Coins & Banknotes Ser.
The leading guide for Australian coin and banknote values. Covers 1800-2020.Edited by Michael PittThis comprehensive guide to Australian Coin & Banknote Values contains over 3,850 images and countless thousands of valuations. This book is a must for all collectors, whether you are just beginning or an advanced collector. Latest information compiled using weighted averages where possible to ensure the accuracy of pricing. Quality reproduction of photos makes it easy to identify items. Covered are copper, silver, gold, nickel and alloy coins and notes used in Australia from 1800 to 2020. Subjects include PreDecimal and Decimal currency, as well as privately issued banknotes, war issues, and privately issued tokens. Also included are latest Royal Australian Mint, Perth Mint & Australia Post Numismatic Covers. ...Show more