$22.99
AUD
Category: fiction a-z | Reading Level: very good
Bobby Wabalanginy never learned fear, not until he was pretty well a grown man. Sure, he grew up doing the Dead Man Dance - those stiff movements, those jerking limbs - as if he'd learned it from their very own selves; but with him it was a dance of life, a lively dance for people to do together... Told through the eyes of black and white, young and old, That Deadman Dance is a story about a fledgling Western Australian community in the early 1800s known as the 'friendly frontier'. Poetic, warm-hearted and bold, it is a story which shows that first contact did not have to lead to war. It is a story for our times. ...Show more
$12.95
AUD
Category: fiction a-z | Series: Text Classics Ser.
Based on the childhood of Sumner Locke Elliot, this novel is set in the Great Depression. PB, an orphan, lives a secure working-class life in Sydney. That's all about to change, however, when his Aunt Vanessa arrives from London and scoops him up to raise him as her own child."
$19.99
AUD
Category: fiction a-z
Oscar Hopkins, the hydrophobic, noisy-kneed son of a preacher, renounces his father's stern religion in favour of the Anglican Church. Lucinda Leplastrier, a frizzy-haired heiress, impulsively buys a glass factory with the inheritance forced on her by a well-intentioned adviser. When the two finally mee t, on board a ship to New South Wales, they are bound by their affinity for gambling and risk, their loneliness, and their awkwardly blossoming mutual affection. Love will prove to be their ultimate gamble. ...Show more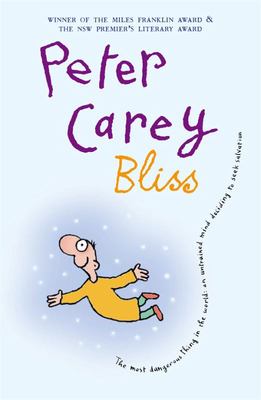 Bliss
by Peter Carey
$19.99
AUD
Category: fiction a-z
For thirty-nine years Harry Joy has been the quintessential good guy. But one morning Harry has a heart attack on his suburban front lawn, and, for the space of nine minutes, he becomes a dead guy. And although he is resuscitated, he will never be the same. For, as Peter Carey makes abundantly clear in this darkly funny novel, death is sometimes a necessary prelude to real life.   Part The Wizard of Oz, part Dante's Inferno, and part Australian Book of the Dead, Bliss is a triumph of uninhabited storytelling from a writer of extravagant gifts. ...Show more
$19.99
AUD
Category: fiction a-z
Winner of the 2015 Miles Franklin Literary Award Shortlisted for the 2015 Voss Literary Prize and the 2015 Stella Prize Longlisted for the 2016 International IMPAC Dublin Literary Award Meet Jimmy Flick. He's not like other kids - he's both too fast and too slow. He sees too much, and too little. Jimmy 's mother Paula is the only one who can manage him. She teaches him how to count sheep so that he can fall asleep. She holds him tight enough to stop his cells spinning. It is only Paula who can keep Jimmy out of his father's way. But when Jimmy's world falls apart, he has to navigate the unfathomable world on his own, and make things right. ...Show more
$22.99
AUD
Category: fiction a-z
"The saga of the McIvors is nothing less than a grim and supremely entertaining take on colonialism in Australia and the tortured, stained hearts of all its New World cousins. A-."--Entertainment Weekly   After his father's death, young William is cast upon the charity of an unknown great-uncle, John Mc Ivor. The old man was brought up expecting to marry the heiress to Kuran Station--a grand estate in the Australian Outback--only to be disappointed by his rejection and the selling off of the land. He has devoted his life to putting the estate back together and has moved into the once-elegant mansion.   McIvor tries to imbue William with his obsession, but his hold on the land is threatened by laws entitling the Aborigines to reclaim sacred sites. William's mother desperately wants her son to become John McIvor's heir, but no one realizes that William is ill and his condition is worsening.   The White Earth won Australia's Miles Franklin Award for 2005 and was selected as Book of the Year (2004) by The Age and the The Courier-Mail. ...Show more
$22.99
AUD
Category: fiction a-z
Following his previous best-selling, prize-winning novels, The Ancestor Game and Conditions ..of Faith, Alex Miller's new novel is a superbly compelling work of betrayals, compassion, secrets and ..reconciliation.
Breath
by Tim Winton
$22.99
AUD
Category: fiction a-z | Reading Level: Adult
Filled with the lyrical genius that has earned Winton international acclaim and a loyal readership worldwide, Breath is the coming-of-age story of two thrill-seeking boys who surf for danger of all kinds on the untamed coast of Western Australia. As the two boys fall under the thrall of Sando, a veteran big-wave surfer, and his enigmatic wife, Eva, the two adults initiate the boys into forbidden worlds of peril, testing the boundaries of athleticism, friendship, sexuality and mortality. Breath is a story about the wildness of youth--the lust for excitement and terror, the determination to be extraordinary, the wounds that heal and those that don't--and about learning to live with its passing. P.S. to include - extended author biography- essay about the pleasure and power of surfing- in-depth interview with Winton about his writing career, his experience of nearly drowning and much more. . . ...Show more
$24.99
AUD
Category: fiction a-z
Too much lip, her old problem from way back. And the older she got, the harder it seemed to get to swallow her opinions. The avalanche of bullshit in the world would drown her if she let it; the least she could do was raise her voice in anger. Wise-cracking Kerry Salter has spent a lifetime avoiding two things - her hometown and prison. But now her Pop is dying and she's an inch away from the lockup, so she heads south on a stolen Harley. Kerry plans to spend twenty-four hours, tops, over the border. She quickly discovers, though, that Bundjalung country has a funny way of grabbing on to people. Old family wounds open as the Salters fight to stop the development of their beloved river. And the unexpected arrival on the scene of a good-looking dugai fella intent on loving her up only adds more trouble - but then trouble is Kerry's middle name. Gritty and darkly hilarious, Too Much Lipoffers redemption and forgiveness where none seems possible. ...Show more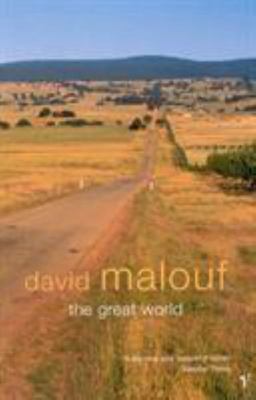 $22.99
AUD
Category: fiction a-z
For the two men in this novel, war was supposed to be a testing ground. But it proved to be an ordeal of a different kind. Spanning 70 years of Australian life, from Sydney's Cross to the backwaters of the Hawkesbury River, this is a novel of lost innocence and witness.
$19.99
AUD
Category: fiction a-z
The year is 1837 and ex-convict Jack Maggs has returned illegally to London from Australia. Installing himself in the household of a genteel grocer, he attracts the attention of a cross-section of society. Saucy Mercy Larkin wants him for a mate. Writer Tobias Oates wants to possess his soul through hyp nosis. Maggs, a figure both frightening and mysteriously compelling, is so in thrall to the notion of a gentlemanly class that he's risked his life to come back to his torturers. His task is to shed his false consciousness and understand that his true destiny lies in Australia. ...Show more
$26.95
AUD
Category: fiction a-z
Hailed as a "literary sensation" by The New York Times Book Review, Carpentaria is the luminous award-winning novel by Australian Aboriginal writer and activist Alexis Wright.   Alexis Wright employs mysticism, stark reality, and pointed imagination to re-create the land and the Aboriginal people of Car pentaria.   In the sparsely populated northern Queensland town of Desperance, loyalties run deep and battle lines have been drawn between the powerful Phantom family, leaders of the Westend Pricklebush people, and Joseph Midnight's renegade Eastend mob, and their disputes with the white officials of neighboring towns. Steeped in myth and magical realism, Wright's hypnotic storytelling exposes the heartbreaking realities of Aboriginal life.   By turns operatic and everyday, surreal and sensational, the novel teems with extraordinary, larger-than-life characters. From the outcast savior Elias Smith, religious zealot Mossie Fishman, and murderous mayor Bruiser to activist Will Phantom and Normal Phantom, ruler of the family, these unforgettable characters transcend their circumstances and challenge assumptions about the downtrodden "other." Trapped between politics and principle, past and present, the indigenous tribes fight to protect their natural resources, sacred sites, and above all, their people.   Already an international bestseller, Carpentaria has garnered praise from around the world. ...Show more