$29.99
AUD
Category: entertainment
Easy to read conversational anecdotes that share the joys and tribulations many of us will encounter after reaching our three score years and ten. The perky cartoon style illustrations of the author's 14 year old granddaughter melds the gaiety of youth with the acceptance of old age in a perfectly delig htful way. ...Show more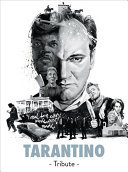 Tarantino Tribute
by S.a. Instituto Monsa de Ediciones (Editor); Eva Minguet
$49.99
AUD
Category: entertainment
A tribute to Quentin Tarantino and the whole universe he has created. Quentin Tarantino is one of the leading filmmakers of the 90s, known for his unique scenes, exquisite soundtracks, violence, and coarse language. Tarantino pays tributes in each of his films and creates unique situations in which the grotesque can become amusing, even causing you to laugh. Here, you will see different fan art works by 31 international artists, featuring authentic masterpieces accompanied by phrases and anecdotes from the world of this fantastic filmmaker. If you are one of the few who has not yet seen Tarantino's films, just sit back on the sofa and enjoy the work of this genius. ...Show more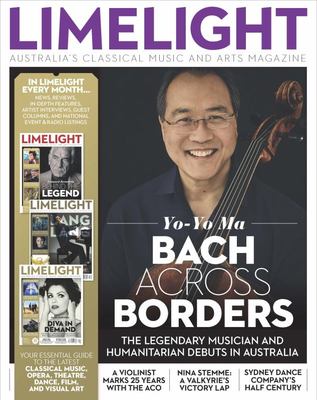 $9.99
AUD
Category: entertainment
* Cover story- Yo-Yo Ma- Bach Across Borders. The legendary musician and humanitarian makes his long-awaited Australian debut with performances of JS Bach's Six Suites for Unaccompanied Cello, which he will play in one sitting in Sydney and Melbourne. * Feature- 30 Australian Musicians Under 30. Who ar e Australia's most exciting young classical performers and what is it that makes them special? We look at 30 of the best from 11-year-old violinist Christian Li to 24-year-old composer Alice Chance. *Interviews- Donald Runnicles, the Sydney Symphony Orchestra's first ever Principal Guest Conductor discusses his new role with the orchestra where he conducts Messiaen, Bruckner, Strauss and Faure this month; violinist Helena Rathbone marks 25 years with the Australian Chamber Orchestra; Swedish soprano Nina Stemme on returning to the Tasmanian Symphony Orchestra for an all-Wagner Gala. *Story- Sydney Dance Company celebrates its half century with a thrilling double bill featuring Rafael Bonachela's 6 Breaths and a new, grand-scale work by Gideon Obarzanek called Us 50, featuring former and current dancers of the company along with members of the dance community. *Reviews- Nikolaj Znaider conducts a concert for West Australian Symphony Orchestra with Asher Fisch as the soloist for Schumann's Piano Concerto; Stephen Hough performs Brahms' Second Piano Concerto with the Adelaide Symphony Orchestra under the baton of Mark Wigglesworth; Joanna Murray-Smith's new comedy L'Appartement, which she is directing herself for Queensland Theatre. *What's on- live performance and radio highlights for October 2019. ...Show more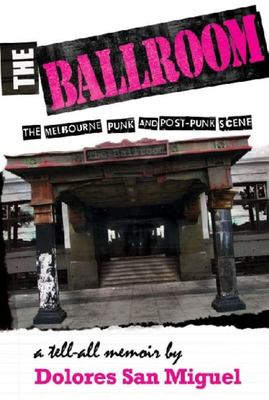 $29.95
AUD
Category: entertainment
The Ballroom is a brutally frank memoir of what has become known as one of the most pivotal, fascinating and influential periods of Australian musical and cultural history. The story is illustrated with original flyers and candid photos, some never before seen or published. The scene: St. Kilda, Melbour ne in the late 70s. It was here amongst the prostitutes, drunks and junkies that a music venue was born, a venue that would soon become the pulse of punk and new wave music in Australia. Melbourne's most famous and infamous musicians, artists, filmmakers and fashion designers such as Nick Cave, Hunters and Collectors, Richard Lowenstein, Sam Sejavka, Howard Arkley and Alannah Hill gathered on a weekly basis during their formative years. Internationally acclaimed acts such as Iggy Pop, The Cure, INXS and Johnny Rotten also performed there. ...Show more
$95.00
AUD
Category: entertainment
Charting the history of the blues from its rural roots in the American South, and focusing on the key musicians and singers who brought it recognition worldwide, The Blues: A Visual History is a unique and fully illustrated account of the development of the blues. This deceptively simple, 12-bar musical form has become the common denominator that has driven the popular music of the last hundred years. As John Lee Hooker put it: "The music we play . . . that music is the roots. Rock music, everything else, is like a branch on the same tree. It all comes from the Blues." ...Show more
$39.99
AUD
Category: entertainment
The Book of Horror introduces the reader to the scariest movies ever made and examines the factors that make them so frightening.
The Star Wars Book
by Cole Horton; Pablo Hidalgo; Dan Zehr
$39.99
AUD
Category: entertainment
This is the Star Wars book you're looking for. If you want to comprehend the epic and intricate Star Wars saga, this is the book for you. It is a unique and insightful examination of this beloved franchise, including Star Wars: The Mandalorian, Star Wars: The Clone Wars, and Star Wars: The Rise of Skywa lker. Written by Star Wars experts, including fan-favorite Pablo Hidalgo, this book is packed with stunning film and TV stills, illuminating infographics and curated essays that reveal the mysteries of the Star Wars galaxy. From legendary heroes like Luke Skywalker and Leia Organa to fascinating species like the Wookiees and Tusken Raiders, this book explores the central characters, technology, governments, and events that have shaped the epic saga. The book is divided into key subject areas - the galaxy, science and technology, the Force, the Skywalkers, galactic governments and their dissidents, and galactic denizens. Whether you are a devoted Star Wars fan or a casual reader curious to learn more, The Star Wars Book is an invaluable roadmap to this galaxy, far far away.... (c) & (TM) 2020 Lucasfilm Ltd ...Show more
$29.99
AUD
Category: entertainment | Series: The\Field Guide Ser.
This book is your gateway to the pop-rock-y, disco-esque, electronic and mod-tastic movement that was (and is) New Wave.   What makes New Wave... New Wave? It's the catchall name of punk's poppy offshoot, born in the 70s, simultaneously born in the United States and United Kingdom. But how would you d escribe New Wave's context in the zeitgeist of the time, or explain how this new electro-rock made people feel? Well, that's precisely what DJ and author Steve Wide explains in this handy book.   In these pages, Steve explains the social and music industry climates of the 70s and 80s, unpacking the influence of the punk genre on NYC-based groups like the Velvet Underground and New York Dolls. There's also a timeline on the usage of the term New Wave - for a long chunk of the 70s it was used almost interchangeably with punk. There are breakdowns on the key record labels, DJs, producers, engineers and magazines - all of which stitched their own layer on the New Wave patchwork. There are deep dives into controversies, rivalries, and messy band breakups. And lastly, there's a dissection of how ripples of New Wave are still felt today, in recorded music and across wider pop culture. ...Show more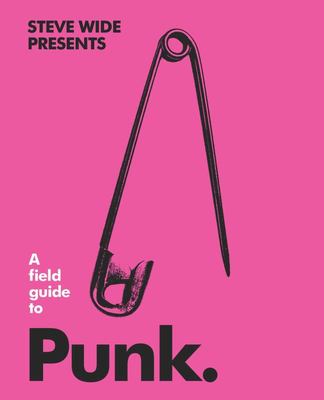 $29.99
AUD
Category: entertainment | Series: The\Field Guide Ser.
This book is your gateway to the safety-pinned, leather-clad, mohawk-toting, anti-establishment, and generally badass Punk movement.   What makes punk... punk? We might all know the Sex Pistols from the opening bar of their songs. But how do we place the punk movement in the context of the wider zeitg eist of the time? And how do the various international offshoots of punk - American, British, Australian - intersect and overlap? Well, that's precisely what DJ and author Steve Wide explains in this book.   In these pages, Steve explains the social climate of Thatcherism, along with a detailed timeline of foundational bands (as well as connected artists, like Damien Hurst, and other subversive genres like Britpop). There are breakdowns of the most iconic punk artists, as well as fashion designers, record labels, DJs, producers, engineers and magazines - all of which applied their own layer to the punk patchwork. There are deep dives into controversies, rivalries, and band breakups. And lastly, there's a dissection of how evolutions of punk carry on today, in recorded music and in wider pop culture. ...Show more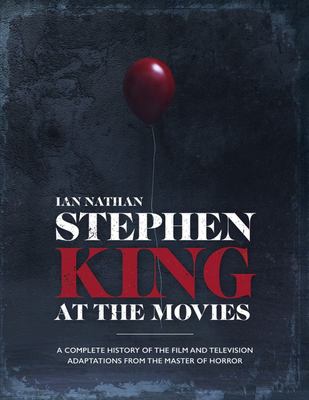 $49.99
AUD
Category: entertainment
Surely America's greatest storyteller, no single author has been adapted more regularly than Stephen King. With 65 existing movies and 30 television shows, and many more to come, the concept of the King adaptation lies at the core of what we understand as Hollywood entertainment, the essence of horror, and the landscape of American life. Illustrated with a fabulous array of familiar and unusual iconography, this is the most comprehensive account of the films and television series adapted from the work of Stephen King ever put together. Every Children of the Corn movie has been accounted for; every remake and reboot wrestled into submission; all the dark recesses of King's imagination brought out into the light. Including fresh critical analysis, interviews, behind-the-scenes revelations and biographical detail, this is both a King completist's dream and a must for all movie fans. Here is the chance to delve deep into such terrifying and beloved movies and TV shows as Carrie, Salem's Lot, The Shining, Cujo, Stand By Me, Misery, The Shawshank Redemption, The Green Mile, and such modern marvels as Castle Rock, Mr. Mercedes, Pet Sematary, It: Chapters One and Two, and Doctor Sleep. ...Show more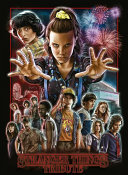 $49.99
AUD
Category: entertainment
Stranger Things is characterised by having the heart and essence of the mythical series and films of the 80's, from The Goonies, Ghostbusters, Back to the Future, The Neverending Story, and so many more, which were authentic icons for that generation. The series has the same breath of fresh air as the p ast that it wants to reflect, since the first episode it has managed to captivate our hearts. From its aesthetics, music on tape cassettes, arcades, the first malls...For deciding the title and font of the series, the Duffer brothers were inspired by a Stephen King novel, Needful Things. Once's role is similar to the character played by Drew Barrymore in the movie Firestarter, also King's novel. ...Show more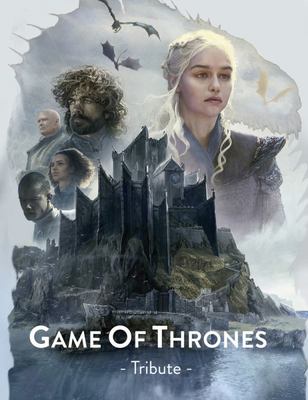 $49.99
AUD
Category: entertainment
A tribute to this wonderful series that, during its eight seasons, has left us holding our breath on more than one occasion as a result of its unforgettable scenes and characters. In this book you will find works of fan art by some of the best international artists, featuring authentic pieces of art acc ompanied by phrases and data from the GOT universe! ...Show more