$19.99
AUD
Category: picture books | Reading Level: Early Childhood
A delightful picture book about a friendship between an exuberant but loveable dachshund and his more retiring, tidy housemate.
$16.99
AUD
Category: picture books
Meek lives with her three sisters, a gaggle of birds, lizards and other creatures next to a tumbledown terrace house. Everyone shares the space, and life is pretty sweet until the day a rude and messy fruit bat named Squabbles moves in - and demands everyone else move OUT. Will Meek be able to get rid o f Squabbles, or is there a way for everyone to get along? Alexa Moses's lively rhyming text is entertaining to read aloud, and Anil Tortop's illustrations are full of terrific detail and great characterisation. Bat vs Poss is a fun story about learning to share that kids aged 3 to 5 will want to read over and over. ...Show more
$24.99
AUD
Category: picture books | Reading Level: New Illustrator
Age range 5 to 12 'Warami mittigar. Hello friend. We welcome you to Darug Country.' Cooee Mittigar, meaning Come Here Friend, is an invitation to yana (walk), on Darug Country.  In this stunning picture book, Darug creators Jasmine Seymour and Leanne Mulgo Watson tell a story on Darug Songlines, introdu cing children and adults-alike to Darug Nura (Country) and language. Greeted by Mulgo, the black swan, readers are welcomed to Nura. Journeying through the seasons, Mulgo describes the land, skyscape, birds, animals and totems. It is a gentle guide to how Darug people read the seasons, knowing when it is time to hunt and time to rest. It is also an appeal to remember, off ering new ways of seeing and reading the lands of the surrounding Sydney region.    With Darug language interspersed with English and an extensive glossary throughout, Cooee Mittigar presents an important tool for learning, told as a tender story with exquisite illustrations. It is Jasmine and Leanne's wish that with this book, everyone will know that the Darug mob are still here and still strong.  Cooee mittigar. Tread softly on our lands.Know that this dreaming was here. Is still here.Will be forever. ...Show more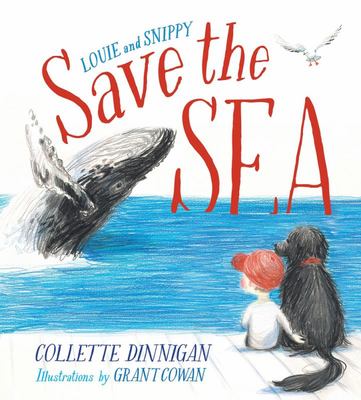 $24.99
AUD
Category: picture books | Reading Level: New Illustrator
Louie and Snippy: Save the Sea is a story of a little boy whose love of the ocean takes him, and the reader, on an incredible underwater journey. Louie and his trusty companion, Snippy the dog, dive into the ocean and are surrounded by brilliant coral reefs. But they soon discover that human rubbish - b ottles, plastic straws and plastic bags - have trapped fish and other creatures. What will Louie be inspired to do?   ...Show more
$29.99
AUD
Category: picture books | Reading Level: Eve Pownall Award
Luminous images, accompanied by newspaper extracts dating back to the early 1800s and words by Ngiyampaa Elder, Peter Williams, explore the ongoing mystery of yahoo encounters. 'He was surprised to observe a hairy human form, about seven feet in height, walking in the bush.' Queanbeyan Age, 24 August 18 86 Throughout the first century or so of Australian settlement by Europeans, the pages of colonial newspapers were haunted by reports of a bewildering phenomenon: the mysterious yahoo or hairy man ... But what was it?  Yahoo Creek breathes life into this little-known piece of Australian history - which, by many accounts, is a history still in the making. 'These stories are not my stories or your stories, they're our stories.' Peter Williams, Ngiyampaa Elder ...Show more
$24.99
AUD
Category: picture books | Reading Level: New Illustrator
Baby Business tells the story of the baby smoking ceremony that welcomes baby to country. The smoke is a blessing -- it will protect the baby and remind them that they belong. This beautiful ritual is recounted in a way young children will completely relate to. Jasmine Seymour is a Darug woman and a des cendant of Maria Lock, daughter of Yarramundi, the Boorooberongal Elder who had met Governor Phillip on the banks of the Hawkesbury in 1791. It is Jasmine's wish that through her books, everyone will know that the Darug mob are still here, still strong. Jasmine is a primary school teacher in the Hawkesbury area of NSW. ...Show more
$24.99
AUD
Category: non fiction children | Reading Level: Eve Pownall Award
Bruce Pascoe has collected a swathe of literary awards for Dark Emu and now he has brought together the research and compelling first person accounts in a book for younger readers. Using the accounts of early European explorers, colonists and farmers, Bruce Pascoe compellingly argues for a reconsiderati on of the hunter-gatherer label for pre-colonial Aboriginal Australians. He allows the reader to see Australia as it was before Europeans arrived — a land of cultivated farming areas, productive fisheries, permanent homes, and an understanding of the environment and its natural resources that supported thriving villages across the continent. Young Dark Emu — A Truer History asks young readers to consider a different version of Australia's history pre-European colonisation. ...Show more
$34.99
AUD
Category: picture books | Reading Level: Picture Book
A young WWI soldier's unauthorized visit home has dire consequences in a haunting story reimagined in miniature tableaux.   About one hundred years ago, the whole world went to war. The war was supposed to last months. It lasted years.   It is Christmastime, 1914, and World War I rages. A young French s oldier named Pierre had quietly left his regiment to visit his family for two days, and when he returned, he was imprisoned. Now he faces execution for desertion, and as he waits in isolation, he meditates on big questions: the nature of patriotism, the horrors of war, the joys of friendship, the love of family, and how even in times of danger, there is a whole world inside every one of us. And how sometimes that world is the only refuge. Its publication coinciding with the centennial of the signing of the Treaty of Versailles, this moving and sparely narrated story, based on true events, is reenacted in fascinating miniature scenes that convey the emotional complexity of the tale. Notes from the creators explore the innovative process and their personal connection to the story. ...Show more
Wilam: A Birrarung Story
by Aunty Joy Murphy Aunty Joy; Andrew Kelly Andrew; Lisa Kennedy Lisa
$24.99
AUD
Category: picture books | Reading Level: Eve Pownall Award
Wilam: A Birrarung Story is one day on a vital, flourishing river. As ngua rises, Bunjil soars over mountain ash, flying higher and higher as the wind warms. Below, Birrarung begins its long winding path down to palem warreen. Wilam – home. Yarra Riverkeeper Andrew Kelly joins award-winning picture book duo Aunty Joy Murphy and Lisa Kennedy to tell the Indigenous and geographical story of Melbourne's beautiful Yarra River, from its source to its mouth; from its pre-history to the present day. ...Show more
$32.99
AUD
Category: non fiction children | Reading Level: Eve Pownall Award
INDIE AWARD WINNER 2020. Marvel as you enter the fascinating hidden world of ugly animals in this encyclopaedia of the animal kingdom's most unusual and beauty-challenged species. It's time for ugly animals to shine! With more than sixty ugly animals to explore, this compendium of the unusual celebrates the beauty in 'ugliness'. Children and adults alike will pore over the breathtaking scientific illustrations of unusual animals, debating their relative ugliness and merits, learning about science and nature along the way. Featuring illustrations and facts about the thorniest species the animal kingdom has to offer, from the naked mole rat to the goblin shark, aye-aye, sphinx cat, blobfish and many more 'ugly' beauties. This gorgeous hardcover book is illustrated in exquisite detail by exciting new Australian talent, Sami Bayly. ...Show more
Fly
by Jess McGeachin; Jess McGeachin (Illustrator)
$24.99
AUD
Category: picture books | Reading Level: New Illustrator
Lucy had always been good at fixing things, and Dad needed a bit of help. It was just the two of them after all. So when Lucy finds a bird with a broken wing, she's sure she can fix him too. But not everything that's broken can be fixed.
$24.99
AUD
Category: picture books | Reading Level: Early Childhood
A joyful story about moving house and embracing change from a much-loved, award-winning team. This is the last time I'll fish in this river.  This is the last time I'll run through these trees.  This is the last time I'll dream by this fire ...  Goodbye, old house. Goodbye. A heartwarming story of letti ng go and starting anew, of moving from the country to the city, with a unique illustration style that allows room and space for the reader's imagination. ...Show more